Artisan Baker Dieteren
Maasbracht is home to Linssen Yachts. That's where we work daily with passion on the development and production of our yachts. We feel closely involved with our neighbours and like to work with local business people who are just as passionate about their work. Cyrille and Priscilla Dieteren of Artisan Bakker Dieteren ('Echte Bakker' Dieteren), for example. Their family business on Molenweg in Maasbracht, a stone's throw from our showroom, has been in existence since 1978. Fun fact: twenty-two years ago, Priscilla briefly worked at Linssen Yachts.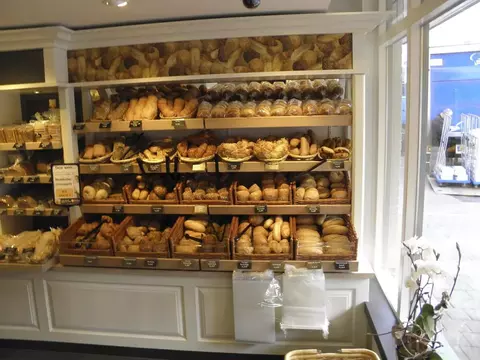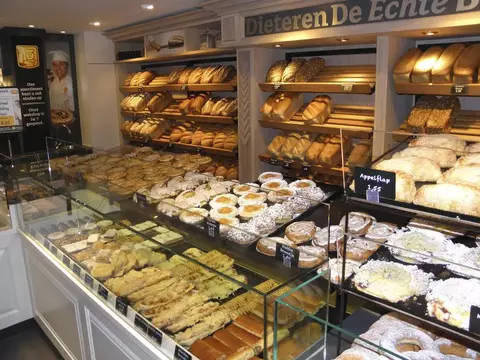 Second-generation Dieteren supplies third-generation Linssen
Her career at Linssen Yachts turned out differently than she expected. Immediately after her training, she started work for us as a receptionist. However, her relationship with Cyrille meant that after a few months she swapped her job with us for a baker's shop. Priscilla laughs: "As a daughter from a boatman's family, I also had my service book for shipping, in case I bumped into a boatman. But it was a baker."
From Born to Maasbracht
Cyrille learned the tricks of the trade from his father, Jan. Together with his wife Lenie, Jan moved from Born to Maasbracht in 1978 to take over what was then the Joosten bakery. Jan's parental home was in Broeksittard, right next to a bakery where he was often to be found. Like two of his brothers, he eventually chose the baking trade.
Cyrille: "After gaining experience at a number of bakeries, my father spent 16 years in Born selling bread and pastries. He made cakes and pastries in a small room at home, buying the bread from a well-known bakery. Using his own VW minibus, he made deliveries 6 days a week."
Award-winning bakery
At the age of 19, Cyrille joined the business run by his father and mother. He officially took over the business in 2000. He has been an independent entrepreneur for 22 years now and Priscilla has become an integral part of their business. Cyrille leads the team in the bakery, Priscilla leads the team in the shop. The ambitious pair that they are, they have continued to innovate and invest in their bakery and shop in recent years. The most recent metamorphosis of the shop dates from 2014. An excellent move, as it turns out. The business is widely known and regularly wins awards. In 2018, Echte Bakker Dieteren was voted Best Baker Shop in the Netherlands
The boater community
Cyrille: "We have a large regular clientele of private individuals and, let's not forget, companies such as Linssen Yachts. In this respect, we also owe a lot to boating and the boater community in Maasbracht. Boaters from all corners of the world have made Maasbracht their home port. Most of them have a house on shore and do their shopping here. That's one of the reasons why Maasbracht is such a thriving village."
Next generation
"I like the fact that people of our generation are at the helm at Linssen Yachts," says Priscilla. "I recognise in them that drive that we have as independent entrepreneurs. It's fantastic to see it. Who's going to take over after us? That's a good question. Probably not our two daughters. You can easily keep the baker's shop running, but you also need really good bakers. That's what the business is based on. And, unfortunately, they're not so easy to find these days."
Cyrille: "The younger generation is no longer so keen to get up early every day. Sorry to say, the baking trade is dying out. You see more and more bakeries disappearing from village centres. That's the trend in our industry. Thankfully, the path we've taken means that we can continue to buck this trend."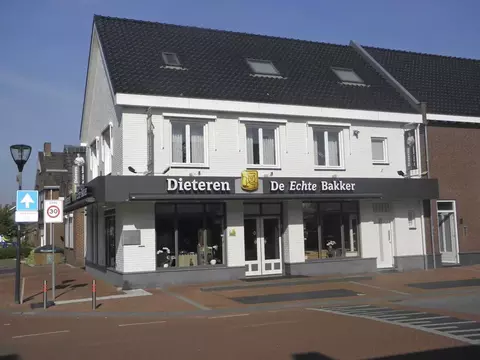 Tradition
Renewing and improving, without abandoning traditional methods. What applies to Linssen Yachts also applies, to a large extent, in the case of Echte Bakker Dieteren. Cyrille: "We've always invested in expertise and machines, both in terms of developing new products and in terms of supplying our products through new channels such as a webshop. It all sounds modern, but the high quality we deliver is traditional and "old-fashioned". You'll see that as soon as you set foot inside our shop."
Regular Linssen supplier
Echte Bakker Dieteren supplies bread and pastries to Linssen Yachts for all kinds of occasions, often celebrations. From an employee's birthday or work anniversary to the annual Linssen Yachts Boat Show. Or, as most recently, special sandwiches for those manning the Linssen stand at the Düsseldorf Boat Show.
Cyrille: "It's just a pleasure to work with Linssen Yachts. They send us the order and we make sure it's ready on the desired day and time. Or we deliver it and set everything out in the right place. From first contact to delivery on site, it has to be good. To me, that's all part of the concept of quality."
Pretzels
Cyrille recounts a nice story. A German customer of Linssen Yachts once wanted to treat Linssen staff to pretzels and beer when buying his new yacht. No sooner said than done. Cyrille: "Pretzels are salty biscuits and, of course, a real German speciality. I hadn't baked them myself before. Eventually, 200 pretzels were delivered to me from Germany by refrigerated truck. I was allowed to bake them off, which was special. I even had telephone contact with the original German baker about that. Very nice. And it was nice to be able to help fulfil that customer's wishes anyway."
Cyrille and Priscilla Dieteren
Molenweg 18
6051 HJ Maasbracht
T. +31 (0)475 - 46 12 65
This email address is being protected from spambots. You need JavaScript enabled to view it.
www.bakkerijdieteren.nl