Butcher shop Wolfhagen
Anyone familiar with our boat shows and other events will also be aware of the culinary attributes of Slagerij Wolfhagen butchers from Maasbracht. Previous visitors will have undoubtedly already sampled the most delicious dishes from this traditional butcher and caterer. Wolfhagen has been one of our regular suppliers since as far back as the 1980s. We joined Camiel Wolfhagen and his father Thijs for a chat in the canteen of the newly renovated butchery and kitchen.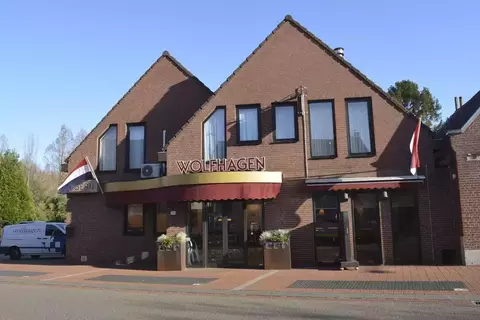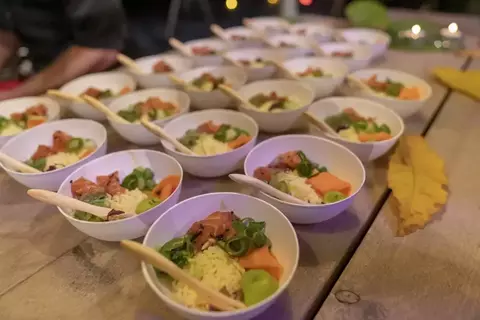 Quality butcher with a sailing licence
Since 1980
Just like Linssen Yachts, Wolfhagen is a true family business. Thijs Wolfhagen and his wife Willie took over a small village butcher's shop on the Hoofdstraat in Maasbracht in 1980. Over the past 40 years, that business has grown into one of the most modern butcheries in Limburg (and perhaps even the Netherlands). Their son Camiel Wolfhagen, who trained as a chef and has Michelin-star restaurants such as Da Vinci and the Librije on his CV, has run the business since 2012 and became 100% owner this year.
At Wolfhagen, everything comes from their own butchery and kitchen. For example, fresh meat products are still prepared in the traditional way every day in their own sausage factory. However, the name Wolfhagen stands for more than just a quality butcher's shop. Together with his team, Camiel translates the knowledge and experience he gained as a chef into high-quality meals and other products. These are delivered daily in a catchment area stretching from Swalmen to Sittard-Geleen.
Maintaining quality
The company had its 40th anniversary this year. This was 'celebrated' with an extensive renovation of the butchery and kitchen. Everything was modernised and highly automated. Meals, sandwiches/rolls and meat products can be ordered from the new webshop (www.webshop.wolfhagen.nl). Camiel: "If you want to stay ahead, you have to keep innovating. In doing so, the most important thing is to maintain quality. Of course we want to grow but not too fast and never at the expense of the quality for which we have been known for years."
This urge to innovate is something that Camiel may have inherited. Thijs also made sweeping changes quite soon after taking over the butcher's shop. Thijs: "After just a few weeks, we started the first major renovation. After six weeks of hard work, we were able to open a completely new shop on 14 December 1980. In 1987 we started preparing and delivering meals and sandwiches. We had already been catering for some time by then."
Camiel is not the type to stand still (Thijs neither for that matter). In his mind, he is already working on the next ideas. A sneak preview: a new shop with partial self-service and a separate counter for picking up online orders.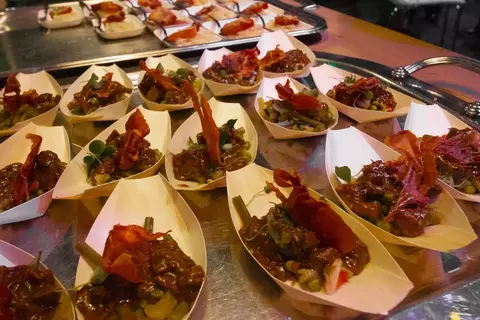 Relationship with Linssen Yachts
At the beginning of the 1980s, Linssen Yachts was one of the first business customers to call upon Wolfhagen. Since then, Wolfhagen has been an integral part of the small and large meetings and events we organise for clients and employees. Thijs: "It has been my pleasure to do business with Linssen Yachts right from the start. Whether it's the christening of a yacht with 10 people, a barbecue for 50 people or a large buffet for the boat shows: they know what they can expect from us. A deal is always a deal for us too." "And everything is possible," Camiel adds. "The word 'no' does not exist for us. We always come up with a solution."
Thijs: "We also supplied the catering for the Linssen staff at the Düsseldorf Boat Show for almost 30 years. Unfortunately, we no longer do that. Otherwise, I would have been able to buy a new Linssen Grand Sturdy 500," he laughs. "Now it's 'only' a 470."
Under the yachting spell
A nice story is that Thijs Wolfhagen actually picked up the sailing bug from Linssen Yachts. He fell 'under the yachting spell' during a barbecue in 1993, as his wife Willie puts it so beautifully. After literally getting to know the ropes on their first small yacht, Thijs and Willie soon decided to go for a real Linssen. Thijs: "We had absolutely no experience with water sports. I had never even been on a yacht, let alone in a lock. In the first few years, we meandered around the Netherlands with the sailing rules on our lap. Later on, we got our sailing licences."
Mother's Day
Thijs bought his first yacht from Linssen for Mother's Day, because you can't get a better present as a mother. Their first Linssen, which Thijs chose in just five minutes, was a 35. Thijs: "Over the years, we have become real sailing enthusiasts. Sailing is just nice and relaxing. We enjoy making trips to Zeeland or Belgium. We used to take the children with us a lot, of course, and they always had loads of fun." Camiel has also started to love sailing. He still has a speedboat at the moment, but he hopes one day to follow in his parents footsteps. Camiel: "Becoming the owner of a Linssen, that's still a big wish of mine."
Would you like to know more about Kwaliteitsslagerij Wolfhagen or would you rather order something delicious right away? Go to www.wolfhagen.nl or order directly in the new webshop via : www.webshop.wolfhagen.nl
Kwaliteitsslagerij en Cateraar Wolfhagen
WHERE CAN YOU FIND US?
Kwaliteitsslagerij Wolfhagen
Hoofdstraat 25
6051 AJ Maasbracht
T: +31(0)475 - 461402
This email address is being protected from spambots. You need JavaScript enabled to view it.
www.wolfhagen.nl