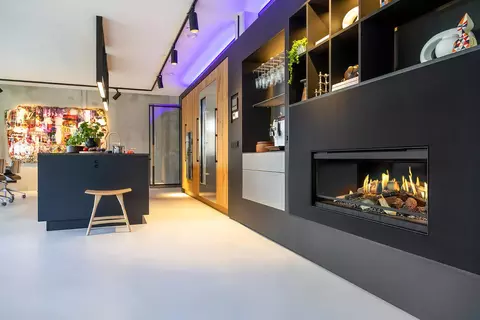 The Kalfire E-one designer fireplace
During our Advent weeks at the end of last year and our Winter weeks in February, they created the warm atmosphere in our showroom that we needed more than ever. We are talking about the award-winning electric Kalfire E-one designer fireplaces. Kalfire is a Limburg-based family business that has been a leading player in the gas and wood fire market for almost 40 years. "Based on our tradition of innovation, we have developed the Kalfire E-one and thereby created a new market segment," says managing director Beijko van Melick.
Only the power cord betrays that it is electric
Kalfire was established in 1981 by Beijko's father. In the years that followed, the company grew to become the market leader in mid- and high-range gas and wood fires. Through an extensive network of dealers and importers, Kalfire's designer fireplaces are now sold in more than 60 countries. The Kalfire E-one was officially launched at the end of last year and quickly won no fewer than three important design awards (Iconic Award, Silver Novum Design Award, GIO Award).
Connecting people as a mission
The story behind the Kalfire E-one fireplace deserves to be told. Beijko explains how the annual Christmas celebration with family in 2016 led to a new company mission. "Just like every year, we celebrated Christmas in the Ardennes. My nieces and nephews were busy all day posting on social media about everything that happened. Until the moment that the wood fire was lit and then, to my surprise, they put down their smartphones. The fireplace created a connection: everyone was drawn into the conversation around the hearth. That got me thinking. Connecting is a basic need that will never go away. You can bring people closer to each other with a fireplace. But in order to do this, we had to make our fireplaces more accessible to install and use. So, without a chimney, without a gas connection and without complicated installation. From that moment on, we just kept going. Connecting as many people as possible became our mission. It has resulted in the development of the Kalfire E-one."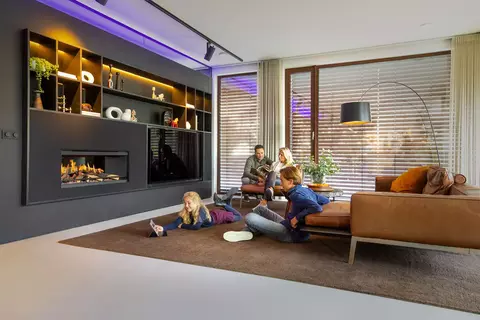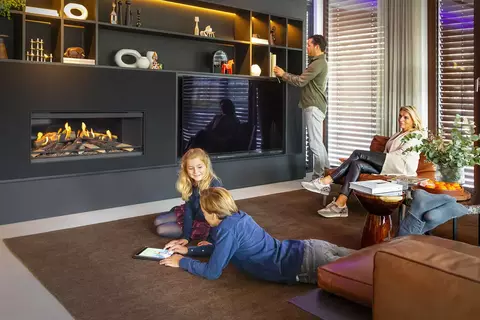 High-end electric fireplaces
Electric fires are nothing new. What is new is the way Kalfire has interpreted them. Beijko: "In 2000, we developed the world's first LED fireplace but, unfortunately, it wasn't a success. The market for electric fireplaces is new to us. We started research and development in 2017. We talked about all sorts of ideas but we put them all to one side. Until we came to the development of digital fire. I saw increasing potential in this as we went along. Ultimately, that discovery was crucial to the creation of the Kalfire E-one. With this electric fireplace, we are now entering a market that actually did not previously exist. The market for high-end electric fireplaces didn't yet exist, we created it ourselves."
Ultra-realistic fire
"I dare say that our Kalfire E-one fireplace has the most beautiful and realistic fire of any electric fireplace on the market worldwide," Beijko continues. "With the naked eye, you cannot see the difference between our flame projected onto ceramic logs and a real flame. We have researched this extensively and have also noticed it in our own showroom. Customers regularly stand looking at the Kalfire E-one and ask where the electric fireplace is. They think they are looking at a gas fire. That's the best compliment you can get."
Endless possibilities
To make things even more realistic, the Kalfire E-one's fire can be fully adjusted to people's individual wishes: from flame height, glow bed and light colour to even the sound of the fire. At the press of a button, the sound of fully crackling larch wood or quieter beech wood can be heard. In this respect, the possibilities are endless. And there are no limitations. The fireplace is sturdy and can be placed anywhere, as long as there is an electrical outlet nearby. Beijko: "You can now easily create the experience of a wood or gas fire in any room. You don't need a gas connection or flue/chimney. Of course, there will always be lovers and haters of a product. Some won't like it while others can't live without it. Fortunately, I can say that those who've already bought a Kalfire E-one have become real ambassadors for us."
On a yacht
With the introduction of the Kalfire E-one, Kalfire has not only created a new market segment, but has also tapped into a new target group: the business market. Beijko: "You can't fit gas or wood fires in places of business, such as offices, for many different reasons. An electric fireplace, on the other hand, is a completely different story. Just look at the electric fireplaces we placed in the Linssen Yachts showroom. Our mission is 'connecting people' and that can now be done in almost any place you can imagine." Beijko laughs: "Even on a yacht. In fact, there are already superyachts sailing around with our fireplaces on board. So, who knows... The possibilities of bringing a quality fireplace into your home (or on board) are now endless. It is digital fire, of course, but I can assure you that you will be fascinated by it. And you will stare into it during a good conversation with family or friends."
WHERE CAN YOU FIND US?
Kalfire B.V.
Geloërveldweg 21
Industrieterrein
5951 DH Belfeld
t. +31(0)77-373 00 07