World-famous Meissen porcelain manufactory
The name Meissen needs no further introduction. Europe's oldest porcelain manufacturer with the famous maker's mark of crossed swords, is known all over the world. This makes the cooperation between Linssen Yachts and the company from the German town of Meißen in Saxony, founded in 1710 (!), all the more special. We spoke to Dr Tillmann Blaschke (CEO of Meissen) about Meissen's rich history, about the core values of tradition and innovation that we share with Meissen and, of course, about our Linssen table service.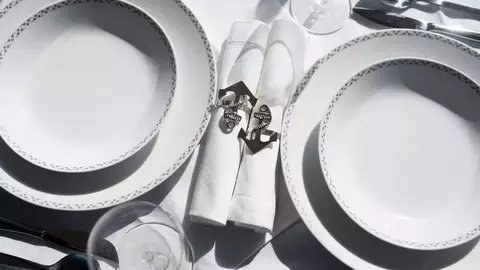 Designs table service for Linssen Yachts
The company's full name is Staatliche Porzellan-Manufaktur Meissen GmbH. The entire handcrafted production takes place in Meißen. What is special is that at Meissen everything is done in-house: from its own mine to its sales outlet. Meissen's special product range is sold through a widespread global network of exclusive dealers.
Cradle of European porcelain
The Meissen website (www.meissen.com) is highly recommended. It describes in detail over 300 years of Meissen's history. We asked Dr Blaschke to share some of the highlights with us. "The city of Meißen is considered to be the cradle of European porcelain, which we invented here in 1710. In the early years, others often attempted to copy our porcelain and even committed industrial espionage to do so. In those days, it was all about protecting our trade secrets as much as possible, all of which took place in Albrechtsburg, a castle in Meißen.
From silver to porcelain
In the years that followed, more and more other companies learned how to manufacture porcelain. From Meißen, porcelain production flourished and expanded to countries all over the world. Meissen's invention also meant a change in table culture, Dr Blaschke explains: "Back then, the nobility ate off silver. That all changed with our invention of European porcelain. A trend that started among the nobility continued later among the middle classes.
Oldest European Trade Mark
Since 1722 Meissen has been using the famous crossed swords as a maker's mark. Dr Blaschke: "After the invention of porcelain, people thought it was important to put a unique mark on it, because others were constantly trying to copy it. The two swords are taken from Saxony's coat of arms. They may have been slightly modified over all those years, but they have always remained. We registered the trade mark with the patent and trade mark office in 1875. Why wait until then? Because the patent and trade mark office did not officially open its doors until then. Our trade mark was the first "logo" to be officially registered in Germany. So it's also the oldest trade mark in Europe."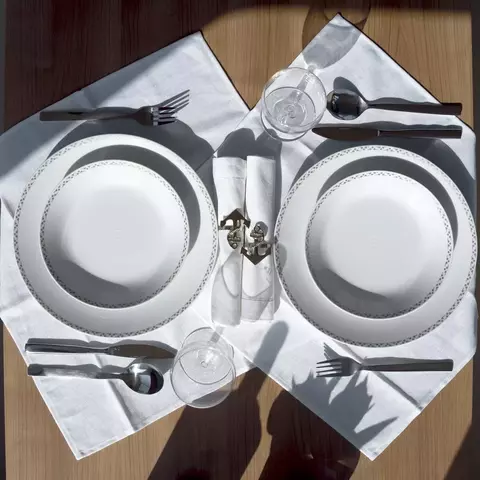 Pioneering role
Meissen has always been a pioneer. The company developed the very first table service in white, followed by the development of porcelain painting and the production of porcelain figurines. Dr Blaschke: "Of course, the others also adapted later. But the remarkable thing is that our company has passed on everything that was created back then from generation to generation. Passing on and continuing to develop - Meissen has always stuck to this idea. I think we have that in common with Linssen."
The importance of tradition
Tradition is always important to a company like Meissen. The same applies to Linssen Yachts. We also like to explore new avenues when developing our products, without ever losing sight of our DNA. Dr Blaschke describes it very well: "Every company that considers tradition important also faces the challenge to develop and innovate. We always find ourselves in this dichotomy. A low level of development means standing still. But if you rush ahead too quickly, you will in turn lose out to others. That's the balancing act Meissen has been performing for 300 years."
Developing a product range
It all started with "crockery" for Meissen. But, by using that word, we are doing Meissen a serious disservice. Dr Blaschke: "We'd rather talk about table service. Crockery has something functional about it. What we make also has aesthetic value." From the beginning, Meissen has served the "table service" segment. Later, segments such as figures, artworks, jewellery and home décor were added. Dr Blaschke: "In essence, these product areas have been preserved. Within them, there are style epochs that have to be served. This is where modernisation and adaptation take place. We supply products that appeal to traditional tastes, but also products that find favour with young, modern-minded people."
Two barrow loads of kaolin
Meissen products can easily be categorised as "exclusive". Dr Blaschke: "Every day, two gentlemen fetch two barrow loads of the purest kaolin from our manufactory's own mine. Kaolin is the white clay that is the key to the striking radiance of Meissen porcelain. Two barrow loads a day, that's all. This creates a certain value and puts us in a certain price range."
Linssen Yachts service
The border design for the Linssen Yachts service was done by KesselsGranger Design Works. The specialists at Meissen then applied this to a customised 5-piece tableware set. Dr Blaschke: "The porcelain for Linssen Yachts is made of the very special white kaolin from our mine in Meißen. Of course, our swords also feature on the service, in this case as a hallmark. The result is very special."
And, although we say so ourselves, it's a must-have for every Linssen owner. Are you interested in this exclusive Linssen-style Meissen table service? If so, check out www.boatstyling.eu
Visit Boatstyling for the Linssen porcelain
WHERE CAN YOU FIND US?
Meissen Porcelain
www.meissen.com