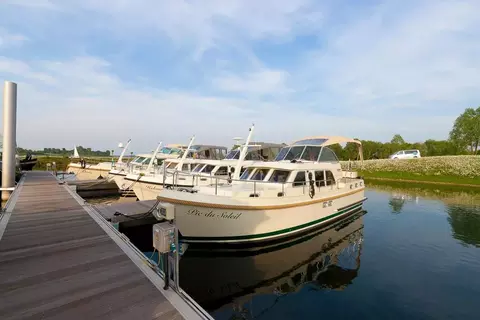 Our customers experiences on a Linssen yacht
Linssen customers sail their yachts all across Europe. Read interesting stories about what they did on their travels. Join them and get to know the pleasures of boating or gain inspiration for your own future trips. Whether you intend to cruise on inland waterways, rivers and canals through Burgundy in France, Friesland in the Netherlands, the extensive waterways around Berlin or along the coastline or travel longer distances, for example across the North sea, Mediterranean, Baltic or Adriatic, you can do it on your Linssen yacht.
Our customers like to tell us about their trips. If you read about a trip that you want to do yourself and would like to know more, our customers will be happy to provide you with more information. Please contact Linssen Yachts (This email address is being protected from spambots. You need JavaScript enabled to view it.) or, where appropriate, one of the Linssen owners clubs.
These articles have been published in the Linssen Magazine. This magazine is sent to Linssen owners and fans twice a year. You can read the articles in Dutch, German, English or French. Make your choice by clicking the language selector at the top right of the website.
| Date / Year | Cruising area / Country | Title -> download / open PDF by clicking on the title |
| --- | --- | --- |
| 2021 | Netherlands | Tour of the Netherlands |
| 2021 | Belgium / France / Spain/ Portugal | Sailing to Portugal, to remain there forever |
| 2021 | Netherlands | An adventurous journey past mills and sandbanks |
| 2020 | Netherlands / Grevelingenmeer | Vita Nova Summer cruise on the Grevelingenmeer |
| 2020 | Norway / Telemark Canal | Islands and a canal: a summer in Norway |
| 2019 | Belgium / Netherlands | Sailing in Dutch and Belgian limburg |
| 2019 | Dalmarian Sea | A voyage on the Dalmatian Sea |
| 2018 | Sweden | A frosty dream trip across Sweden |
| 2018 | Netherlands | Travels in the Netherlands with a Linssen and a camera |
| 2017 | Baltic / Med (Croatia, Italy, France) | Halfway around Europe on our own brand new yacht |
| 2016 | Norway | Cruising through Norway on a Linssen motor yacht |
| 2016 | Baltic Sea | Cruising the Baltic with a Linssen yacht |
| 2016 | - | Safe fun for kinds on board |
| 2015 | Germany | A cruising region for lovers of nature and culture |
| 2015 | Denmark, Sweden, Finland | From Maasbracht to Lake Saimaa |
| 2015 | Finland | Cruising in Finland |
| 2015 | Croatia | Croatia among europes most beautiful areas for cruising |
| 2014 | Europe | Just turn the key and off you go |
| 2014 | England | Four men and a boat |
| 2014 | Netherlands, Germany | This is living the Linssen dream |
| 2014 | Netherlands | Closing the book on sail |
| 2013 | England, Belgium, Netherlands | A pioneering sailing tour |
| 2013 | Netherlands - Maastricht | It can't just be a coincidence, can it? |
| 2013 | Denmark | Denmark the archipelago of large small islands |
| 2013 | - | Cooking on board |
| 2012 | Germany / France | Our voyage through the Mirabelle region |
| 2012 | Germany / France | Carving the Ardennes with Linssen fleet sixteen |
| 2011 | - | Linssen Yachts services |
| 2011 | England, Belgium, Netherlands | Exciting crossing in thick mist |
| 2011 | France - Burgundy | Burgundy is a fantastich region with a fascinating culture, a wonderful gastronomic tradition and superb wines |
| 2011 | Netherlands - Limburg | Visiting the Province of Limburg via the Willemsroute |
| 2011 | France - Corsica | The west coast of Corsica is always treacherous |
| 2011 | France, Germany | The Quiche Lorraine Tour with Delfin (part 2) |
| 2011 | - | Quality means value retention |
| 2010 | France, Germany | The Quiche Lorraine Tour with Delfin (part 1) |
| 2010 | Norway | Winter Wonder Land - Norwegian conversion from a Colin Archer to a Linssen |
| 2010 | Netherlands | Grüezi Holland |
| 2010 | France, Germany, Austria, Switzerland | Lake Constance - Vienna - Paris (part 2) |
| 2009 | Switzerland | Sailing in Switzerland - Three Lakes Area |
| 2009 | France, Germany, Austria, Switzerland | Lake Constance - Vienna - Paris (part 1) |
| 2009 | France - Canal du Midi | A wonderful cruise down the 'platane' lined Canal du Midi |
| 2009 | Germany, Netherlands, France | A trip from Merzig to Paris |