Experience the quality and luxury of a Linssen Yacht
Luxury steel motoryachts from Linssen Yachts!
In a unique series production, Linssen Yachts builds four yacht series: the versatile Grand Sturdy series, the sporty SL series, the unique Variotop® series and finally the Variodeck series.
Linssen Grand Sturdy series
Linssen SL series
Linssen Variotop® series
Linssen Variodeck series
Linssen Yachts
4 yacht series
Unique characteristics of a luxury Linssen yacht
All steel Linssen motoryachts are characterised by quality, space and excellent sailing characteristics.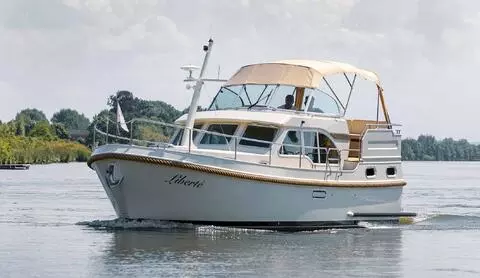 Linssen Linssen Grand Sturdy series
The Linssen Grand Sturdy series is the most versatile steel yacht series you can find. A sturdy and robust appearance due to the rope fender, but still with a modern touch.
Browse models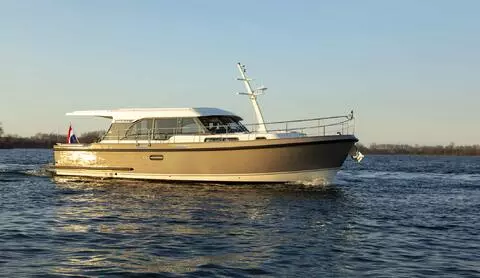 Linssen Linssen SL series
SL is an acronym for Sport Luxury. As fitting with the sporting philosophy, the main character lines of the yacht have been accentuated. The exterior design is hallmarked by details that are unique to the SL series.
Browse models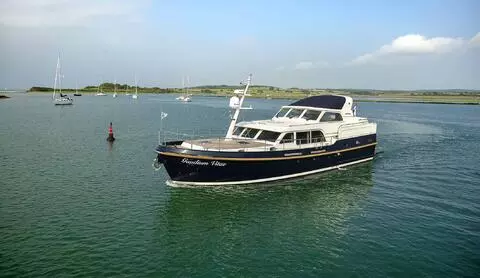 Linssen Linssen Variotop® series
A yacht equipped with a Linssen Variotop® is actually a very special combination of an inside and outside helmsman's position and a fly-bridge.
Variotop
Browse models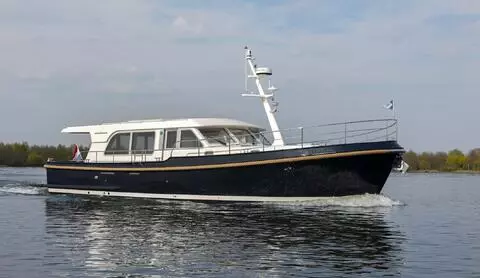 Linssen Linssen Variodeck series
The Linssen Variodeck series is the yacht series with the Grand Sturdy 500 Sedan Variodeck. The biggest open cockpit yacht from Linssen Yachts. With 15,50 x 4,65 meters, she is the ultimate traveller to go through the European waterways.
Sedan
Browse models
Sharing is sustainable
We live in a sharing economy in which people are members of communities of like-minded persons and increasingly make use of each other's possessions. This is a trend we embraced years ago by setting up our Linssen Boating Holidays® charter network. Their long lifespan and stable value makes our steel motor yachts eminently suitable for chartering. In this way, a Linssen owner can achieve a good return on his investment and let other people enjoy the sustainable qualities of his yacht.
In addition to literally sharing yachts, we think it's important to exchange knowledge and experience as well. Using each other's knowledge is important in order to ensure smarter and faster innovation, including in the field of sustainability.
We share our knowledge with our customers, the Linssen owners, who often meet up in Linssen owners clubs. It's nice to see that from this solidarity they also support each other with help and advice when necessary. Offline and online.
Our company is driven by innovation. Learning from and with each other is important for continuous improvement. We therefore constantly invest in training for our employees as well as in knowledge updates and training courses for our dealers and service partners. And in initiatives to inspire school pupils at an early stage to consider a job in our manufacturing company.
Why a Linssen yacht?
Linssen yachts are characterised by quality, space and excellent cruising characteristics. The quality of a luxury yacht is not only characterised by high-quality materials and finishing. Quality also lies in well thought-out and sophisticated technology, perfect engineering, trouble-free technology and access to all components. This makes maintenance on board easy to carry out and breakdowns minimal. The special hull shape achieves the best possible cruising characteristics for both inland waterways and coastal waters. In addition, the wide full hull offers an enormous amount of interior space. And this space is also used optimally so that even the "smallest" Linssen 30.0 is a true wonder in terms of space.
Luxury Linssen yachts are elegant and timeless. The style and design of both the exterior and interior appeal to everyone. Choose the slightly more classic Grand Sturdy series of motor yachts or perhaps the sportier Linssen SL series. The interior design of a luxury Linssen yacht is made up of the best materials available on the market. Special production methods and patented on-board elements ensure exceptionally low noise levels and the best handling characteristics. The Floor Integrated System (FIS) and the Power Impact Construction (PIC) in the hull are the best examples of this. Ask about them in your talks. How Linssen protects the steel hull of your luxury yacht is reason enough to pay a visit to the boatyard. The Linssen 'Exterior Coating System', based on technology and infrastructure developed in-house and years of experience, provides perfect protection. Linssen Yachts builds your luxury dream yacht in series. No fewer than 70 yachts of various lengths, models and designs leave the shipyard each year. In addition to the standard construction processes, there is a wide range of variants and optional items for the individual specification of your dream boat.
It is important to realise that Linssen steel yachts are particularly stable in value. The constant quality resulting from more than 70 years of experience, series construction and recognisable model lines lead to a high residual value and excellent resale opportunities. The yachts are comfortable, sound, safe and versatile for many boating areas, where you can benefit from the European Linssen dealer network for all your questions on purchase, maintenance, mooring, storage, etc. If you decide to have a new luxury Linssen yacht built, you will receive construction support from your Linssen sales partner, comprehensive personal handover instructions, a 3-year Linssen Yachts warranty and the Linssen after-sales service.
Linssen yachts are designed with comfort and safety in mind. They feature the latest technologies and are built to the highest safety standards.
Linssen motor yachts are known for their high quality and craftsmanship. Each yacht is built in series with great attention to every detail, from the hull to the interior.
Linssen has a rich history in yacht building dating back to 1949. It is a family business that is still owned by the founding family. By choosing a steel Linssen yacht, you are choosing a piece of Dutch craftsmanship and heritage.