"Linssen Yachts has set the quality standard for me"
Have you seen a Linssen Yachts photo online or in print? Chances are that Peter de Ronde of Zebra Fotostudio's in Venlo was behind the lens. Peter has been our regular photographer since the early 1990s and has shot many images for us. It's time to turn the tables and put Zebra Fotostudio's in the picture.
Zebra Fotostudio's is a well-known name in the world of commercial photography. The studio was founded in 1980 under the name Holthuis & Stevens, named after the owners at the time. Current owner and photographer Egon Notermans joined the company in 1983 and the name was changed shortly afterwards. "When Stevens left the company, we needed a new name," Egon says. "We didn't want another combination of surnames, but a name that is entirely unique to us. That name was Zebra. A name that stands out and endures to this day." Besides Egon, the current team consists of picture editor Wim van Groenendaal and, of course, Peter de Ronde.
Darkroom
After completing his studies at the art academy in 1980, Peter de Ronde started working one day a week at the photography shop of the above-mentioned Stevens in Tegelen. Although he had studied design in metals and plastics, photography always had his special attention. In 1985 he had the opportunity to start work at Zebra in the darkroom. Peter: "That was a great time. We did everything ourselves: developing and printing. A few years later, I took my first steps as a photographer. I started from scratch. I did go to photography school, but that was mostly theory. You then think you can do something, but in fact you can't do anything at all. Photography is something you only really learn on the job."
The perfect picture
Peter, Egon and Wim can safely be called professionals. They do everything to achieve the perfect picture, whether it's product photography, food photography, architectural photography or a corporate shoot. No concessions are made on quality. Never.
Peter: "We set high standards for ourselves and want to create beautiful work. That's where we derive our satisfaction. I enjoy quality immensely and am constantly looking at the work of others to learn from it. Fine exhibitions, art, visual objects, they inspire me." Egon: "We want only the best and can't stand behind substandard work, even if the client would like it. That's not a benchmark for us."
First jobs
Contact with Linssen Yachts was established in the early 1990s through Harrie Linssen, who at the time was the neighbour of a friend of Peter's. Peter: "I did my first job for Linssen in November 1993. The interior of the Linssen 45 HT, the first Linssen yacht with a Variotop, was to be photographed. At the time, Peter Linssen was the board member responsible for sales and PR. I have often worked with him."
In the early years, Peter de Ronde photographed the yachts from the waterfront and mainly at locations in the Netherlands. Gradually, the need for international visual material increased and it was decided more and more often to have a photo shoot abroad. Peter: "My first international job for Linssen was in Zingst on the Baltic Sea in northern Germany. Along with Peter Linssen. And with Jan Linssen as skipper." Peter laughs: "I think I had Jan sail up and down about 50 times. Anything for the best quality, you know."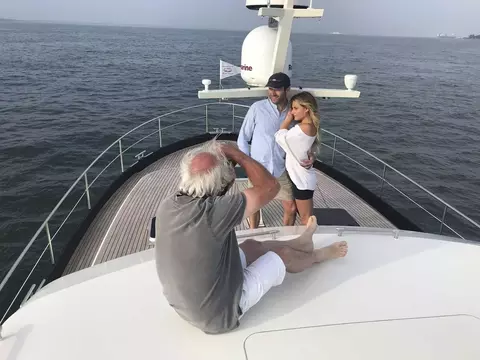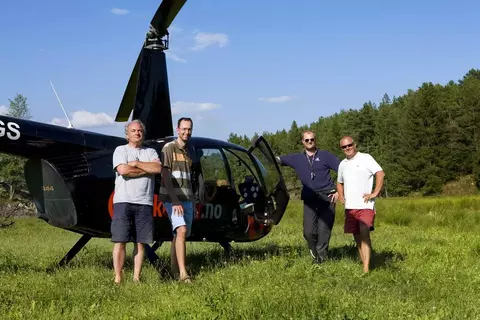 Taking photographs from a yacht
Peter had never been aboard a yacht until Linssen Yachts became a Zebra Fotostudio's customer. Since then, he has seen a large part of Europe with Linssen and captured countless Linssen yachts from the water. Peter: "Taking photographs from a second boat works better because you're more flexible. Although it's still challenging. You're standing with your camera on a boat that is constantly moving due to the current and wind. And you want to 'paint a picture' of another boat that's not staying still for a moment either. Your composition needs to be right, but can be gone in a flash. Fortunately, I've developed a kind of intuition for it over the years. The ideal moment can suddenly be there. That's why I always shoot a lot of photo material."
Influenced by Linssen
During the interview, Peter de Ronde emphasised that Peter Linssen had been very important to him. "He has set the quality standard for me. I wanted to respond to that as a photographer and that's where my work ethic came from. Linssen constantly challenged me. By pushing your boundaries each time and just doing it, you discover that many things are possible. What you have in you and what you want to make of it, that's what it's all about. That's the attitude I see at Linssen Yachts and at Zebra Fotostudio's, which is why I think we are such a good match."
Responding to the moment
Photography used to be analogue, now it's digital. But, essentially, nothing has changed for Peter. "It still has to do with your creative view of what's happening at any given moment. You can't think it up in advance. When I'm taking photos with Linssen in Maastricht and we're sailing towards Belgium, I can't guess at the Bassin harbour what's going to happen further on at the cycle bridge. It depends on the position of the boat, the light and the setting. I respond to the moment with my camera. You just have to want to do the very best work. Then you start looking and with a little luck you find the ideal conditions and the end result is amazing."
WHERE CAN YOU FIND US?
Zebra Fotostudio's B.V.
Waterleidingsingel 145
5915 VW Venlo
Tel: +31 77 320 0000
This email address is being protected from spambots. You need JavaScript enabled to view it.
www.zebra.nl