Linssen 50 SL Sedan Variodeck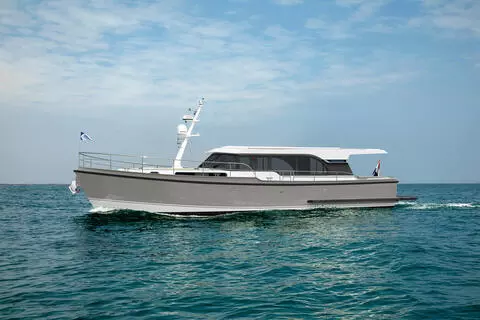 Our largest Sedan, also for small waterways. The Linssen 50 SL Sedan Variodeck is a luxury 'traveller' with ideal dimensions. And with a more than ideal clearance height of only 2.75 m. The Linssen 50 SL Sedan Variodeck® paves the way for many comfortable cruises, even right across the French sailing mecca. This is the ultimate Linssen for skippers who like to think in terms of possibilities, not limitations.
The Linssen 50 SL Sedan Variodeck® is a genuine all-season boat that allows you to enjoy both the small and large waterways very early and very late in the sailing season.
The many USPs are too numerous to mention here. Just take the large E-Variodeck sliding roof, the Bifold Variodoors between the saloon and the open cockpit, the One Touch Cockpit cover and the Smart Helm Console. All unique Linssen elements that enhance both safety and comfort and experience on board.
Layout
The Linssen 50 SL Sedan has a spacious saloon with U-settee, low saloon table and galley at Port side. Folding dinette/desk with 2 design stools and inside steering position including steering bench at SB-side. "Linssen slide and pop-out-door", watertight sliding door in saloon on port and SB-side with special lip-seal developed by Linssen.
Forward cabin with double berth, cupboards and walk-in closet, toilet compartment and seperate shower compartment. Guest cabin with two single beds with drawer and linen cupboard on port side and additional toilet compartment with optional shower on starboard.

Open cockpit with teak floor, integrated U-shaped cockpit settee, four part glass doors to saloon, large hatch in the open cockpit with ample storage space. Doors to bathing platform in the cockpit at starboard and port side

Linssen 50 SL Sedan USP's (pictures Grand Sturdy 500 Sedan)
Linssen Yachts is a premier manufacturer of luxurious and high-quality motor yachts, providing unmatched levels of comfort and style. As a family-owned business, Linssen Yachts takes pride in its commitment to delivering the finest craftsmanship and attention to detail in every yacht produced. With a reputation for excellence that spans since 1949, Linssen Yachts offers a wide range of yachts that cater to the unique preferences of its customers. Whether you're a seasoned yachtsman or a first-time buyer, Linssen Yachts offers a one-of-a-kind experience that is sure to exceed your expectations. Explore the USP's of Linssen Yachts and discover what sets us apart from the competition.
One-Touch Cockpit Cover®
The large open cockpit can be closed and opened with the electrically operated One-Touch Cockpit Cover. You undo one zipper and a few snap buttons, press the remote control and the entire cover is automatically retracted. The sections disappear into special storage cassettes in the corner of the cockpit.
Bifold Variodoors
Opening the glass Bifold Variodoors turns the saloon and cockpit into one large, spacious living area, with plenty of light and comfort.
Bifold Variodoors - insect screens (option). Insect screens are also integrated into the coves behind the Bifold Variodoors. They can be easily extended so that fresh air can enter, but any insects are kept out.
Rotating Saloon Seat
Thanks to the flexible layout of the saloon seat, you can easily turn part of the seat to face your guests in the cockpit using the Rotating Saloon Seat.
One-touch e-Variodeck
You can let in even more light and air by opening the e-Variodeck. An insect screen and blinds can also be fitted to provide even more comfort, if desired.
Dinette
You'd like to have a cosy breakfast together but don't want to use the whole saloon table? All you need to do is fold out the dinette table and take a seat...
Slide and pop-out Door
The Slide and Pop-out Doors on the port and starboard side make it extremely easy to get to the centre cleats quickly from the inside. These high-quality sliding doors on both sides allow you to steer the 500 Sedan with one hand and moor with great ease.
Storage
The 500 Sedan has a lot of storage space. For example, under the stairs to the front cabin, there's a cupboard with room for six storage crates for your supplies.
Storage space under the cockpit floor
The large open cockpit not only provides a lot of living space but also offers a lot of storage space underneath. This consists of handy flexible compartments in which all supplies can be stored safely and securely.
Smart Helm Console
The Smart Helm Console has been developed to keep the controllers for operation and steering within reach while sailing, despite the Slide and Pop-out Doors. This pull-out console ensures even greater sailing comfort and safety.
Basic specifications

Grand Sturdy 500 Sedan Variodeck

LOA x beam overall x draft
± 15,50 x 4,65 x 1,20 m
± 50'10" x 15'3" x 4'
Minimum air draft:
± 2,75 m
± 9'
Headroom FC/saloon:
± 2,00 / 2,05 m
± 6'7" / 6'8"
CE-classification:
B (sea)
Tank capacity diesel
± 2x 750 ltr
± 2x 198 gallons
Water capacity
± 720 ltr
± 198 gallons
Holding tank capacity
± 400 ltr
± 105 gallons
Weight/displacement:
± 27.000 kg / ± 27 m3
± 59525 lbs
Engine
2x 4 cil. Mercury Diesel, type MD2.0L
2x 84 kW (115 HP), 3000 rpm
Emission compliance: EPA Tier 3, EU RCD Stage II, BSO II