Grand Sturdy 550 AC Variotop®
Leadership is a consequence of expertise, of authenticity and remaining true to yourself, whatever's going on around you. You recognise that because of your success in business. The new Linssen Grand Sturdy 550 AC Variotop® is a born leader. The flagship of our high-quality steel motor yachts is sailing in the wake of its predecessors. At the same time, it exceeds the previous model series on all fronts. The design is elegant and timeless. It is powerful with low-noise characteristics in the engine room. The construction is well thought out and sustainable, and the interior is spacious and complete.
The Grand Sturdy 550 AC Variotop® has been built to lead. Are you its helmsman?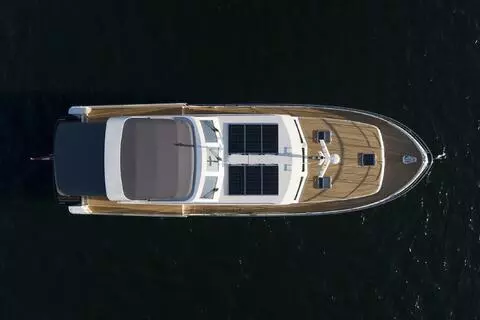 Layout
Variotop® wheelhouse with luxurious two-person helmsman's bench and second bench on the port side. Aft cabin with a free-standing double berth, toilet compartment with washbasin at SB-Side, shower compartment, incl. wardrobes at port side. Saloon with spacious U-shaped settee at SB side and galley at SB side. At port side L-shaped dinette and cupboards. Optionally the saloon can be equippend with a galley extension on the port side, combined with a U-shaped settee or a vis-a-vis dinette.
Forward cabin with double berth and cupboards, separate toilet and shower compartment and a guest cabin with 2 single beds, one bed can slide, so it can be used as a double bed.

Layout 1

Layout 2
Variotop® Steering saloon
Basic specifications

Grand Sturdy 550 AC Variotop®

LOA x beam overall x draft
± 16,50 x 4,90 x 1,29 m (hull length 14,95 m)
± 54' x 16' x 4'3" (hull length 49')
Minimum air draft:
With only mast down ± 4,20 m / ± 13.10'
Minimum (Variotop arch opened) ± 3,49 m / ± 11'6"
Headroom FC/saloon:
± 2,00 / 1,98 / 1,98 / 2,00 m
± 6'6.7"
CE-classification:
B (sea)
Tank capacity diesel
± 2370 ltr diesel fuel
± 626 gallons
Water capacity
± 960 ltr
± 253 gallons
Holding tank capacity
± 400 ltr
± 105 gallons
Weight/displacement:
± 30.000 kg / ± 30 m3
± 66140 lbs
Engine
2x 4 cil. Mercury Diesel, type MD2.0L
2x 112 kW (150 HP), 3000 rpm
Emission compliance: EPA Tier 3, EU RCD Stage II, BSO II