Linssen 55 SL AC Variotop®
Linssen 55 SL AC Variotop®
The design of this SL was also produced in collaboration with KesselsGranger Designworks, and that is clearly reflected in the consistently implemented style. The clean, modern look with contrasting shades of grey in the saloon windows and Variotop wheelhouse really stands out. The rising waterline and bow shape also create the immediately recognisable "Sports Luxury" look. No-one will be able to resist the visual appeal of this Linssen 55 SL AC Variotop®. Robust and sophisticated. Tough, but stylish. It is precisely this modest, subtle appearance that gives the yacht a real "look".
Variotop® wheelhouse
The most recognisable location of the Variotop® is, of course, the wheelhouse. It's really well heated and sheltered under the Variotop® when the weather's not so good, or open when the sun's shining - but sheltered from the wind - when weather conditions permit. By adjusting the electric helm seat to the highest position, you can raise yourself above the windscreen to enjoy a clear view.
---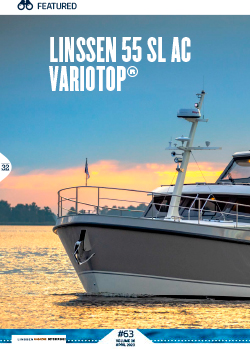 download PDF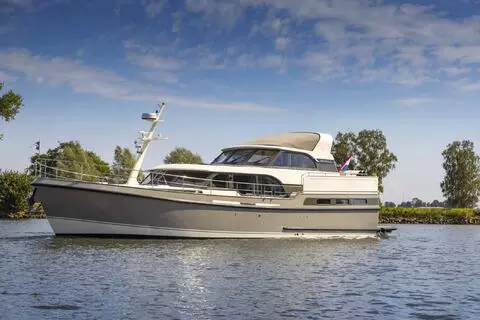 Layout
The Linssen 55 SL AC Variotop® has a three-cabin layout. The spacious aft cabin containing a generously proportioned free-standing double bed, large toilet with sink and connecting shower room is your private domain. There's an extraordinary amount of storage space in wardrobes and cupboards and drawers around the bed. Comfortable high-quality carpeting is laid right next to the bed. You can relax in style and watch TV from the bed. The passage to the aft cabin provides even more storage space on both sides and room for an additional refrigerator, wine cooler, etc.
The forward cabin and guest cabin are located at the front of the boat, on the port side. They share the toilet and shower in the passage to the forward cabin. The shower also houses the standard combined washer/dryer.
The saloon has all the luxury and comfort you are used to at home. The pantry is fully equipped, including a 110-litre refrigerator, induction hob with four cooking zones, extractor hood and microwave/oven/grill. This means you can have fun cooking together and then enjoying the meal with a glass of wine at the L-shaped dining table situated opposite. The saloon also contains a TV mounted against the aft cabin wall. If you don't want to miss your favourite sports programme or TV show, you can watch it together from the U-shaped saloon sofa. Thanks to excellent insulation, double glazing and radiator heating, you will have the comfort you want all year round.

Layout 1

Layout 2
Variotop® steering saloon
Basic specifications

Linssen 55 SL AC Variotop®

LOA x beam overall x draft
± 16,50 x 4,85 x 1,29 m (hull length 14,95 m)
± 54' x 15'9" x 4'3" (hull length 49')
Minimum air draft:
With only mast down ± 4,20 m / ± 13.10'
Minimum (Variotop arch opened) ± 3,49 m / ± 11'6"
Headroom FC/saloon:
± 2,00 / 2,00 / 2,00 / 2,00 m
± 6'6.7"
CE-classification:
B (sea)
Tank capacity diesel
± 2370 ltr diesel fuel
± 626 gallons
Water capacity
± 960 ltr
± 253 gallons
Holding tank capacity
± 400 ltr
± 105 gallons
Weight/displacement:
± 30.000 kg / ± 30 m3
± 66140 lbs
Engine
2x 4 cil. Mercury Diesel, type MD2.0L
2x 112 kW (150 HP), 3000 rpm
Emission compliance: EPA Tier 3, EU RCD Stage II, BSO II