Grand Sturdy 45.0 AC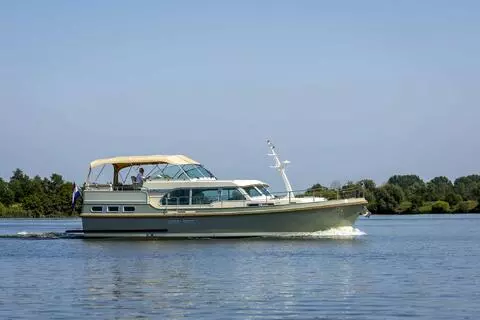 The Grand Sturdy 45.0 is a very spacious steel boat that is perfect for long journeys throughout Europe but also for a long weekend. From the first 'line on the drawing board', the aim was to achieve maximum versatility. The wealth of details ensures that the 45.0 provides a fitting and universal concept for practically all waterways.

Whether you opt for the AC with the spacious aft cabin or for the Sedan with the good-sized open cockpit, you will be enjoying your penthouse on the water! The 45.0 has an exceptional amount of living space, whether you are in the saloon, on the aft deck or in one of the cabins. There is also plenty of storage space. Everything that you need on your voyage can easily be stowed away in the many cupboards, drawers and under the hatches. The 45.0 also has plenty of luxury. Because all modern comforts are either already present as standard features or provided as an optional item by our designers.
AC: 6 + 2 sleeping berths
The fore of the Grand Sturdy 45.0 AC houses the forward cabin with a double bed and the guest cabin on the port side. The toilet is accessible from both the forward cabin and the corridor. The separate shower is located in the gangway to the forward compartment. The aft compartment houses your own roomy cabin with double bed, toilet and separate shower.

The saloon is all on one level. On the spacious U-shaped bench, you can relive the day's events while enjoying a glass of wine. The U-shaped galley has plenty of space and has all conveniences. The port side houses the dinette where you can enjoy your self-prepared breakfast, lunch or dinner.

Basic specifications

Grand Sturdy 45.0 AC

LOA x beam overall x draft
± 13,98 x 4,35 x 1,20 m
± 45'10" x 14'3" x 4'
Minimum air draft:
± 3,00 m
± 9'10"
Headroom FC/saloon/AC:
± 1,97 / 2,01 / 1,99 m
± 6'5.5" / 6'7/1" x 6'6.3"
CE-classification:
B (sea)
Tank capacity diesel
± 2x 530 ltr diesel fuel
± 2x 140 gallons
Water capacity
± 440 ltr
± 116 gallons
Holding tank capacity
± 240 ltr
± 63 gallons
Weight/displacement:
± 20.000 kg / ± 20 m3
± 44090 lbs
Engine
1x 4 cil. Mercury Diesel, type MD2.0L
112kW (150 HP), 3000 rpm
(twin 115 HP engine optional)
Emission compliance: EPA Tier 3, EU RCD Stage II, BSO II