Grand Sturdy 35.0 AC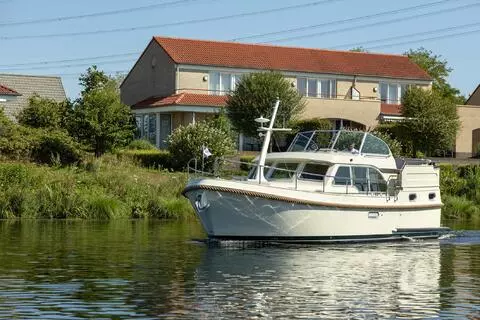 The Linssen Grand Sturdy 35.0 is an excellent choice for first-time boat-owners with a growing family, who will appreciate the functional, comfortable spaces on board. This compact yacht is very well equipped, it has an optimum layout and its price/performance ratio is very attractive.
Its cruising characteristics can simply be described as extraordinary. The Linssen special single-chine hull shape gives the yacht excellent stability and thanks to a combination of the new shape of the boat below the waterline, keel shape, rudder shape and rudder balance ratio, the boat also handles well in reverse, even against the direction of rotation of the propeller.
Layout
Will the AC be your choice? If so, you will have enough space for four people, with the luxury saloon and the two spacious cabins, each with a double bed. Are two sleeping berths sufficient to meet your needs? If so, the Sedan-variant may be an option. The wide, double, outward-opening doors allow you to transform the saloon and open cockpit into one large room.
Creating additional sleeping berths
Whichever alternative you may choose, it's always very easy to convert the saloon bench seat into a comfortable double bed using the Linssen Easy Sleep Convert System®. By simply removing the saloon table and cushions, you can push the bench out, and a slatted base appears automatically. Replace the cushions again to create a generously proportioned and comfortable bed.
From this last word in yachts, you will see the world from a perspective that most other people never will.

Easy Sleep Convert System
Basic Specification

Grand Sturdy 35.0 AC

LOA x beam overall x draft
± 10,70 x 3,40 x 1,00 m
Minimum air draft:
± 2,45 m
Headroom FC/saloon/AC:
± 1,83 / 1,94 / 1,87 m
CE-classification:
C (coast)
Tank capacity diesel
± 240 ltr
Water capacity
± 220 ltr
Holding tank capacity
± 240 ltr
Weight/displacement:
± 8.000 kg / ± 8 m3
Engine
1x 4 cil. Volvo Penta Diesel
37,5 kW (50 HP), 3000 rpm
Emission compliance: EPA Tier 3, EU RCD Stage II, BSO II