Explore the newly redesigned Linssen Yachts website and embark on a journey of luxury, craftsmanship, and innovation...
Welcome to the New Linssen Yachts Website
Explore the newly redesigned Linssen Yachts website and embark on a journey of luxury, craftsmanship, and innovation. Our refreshed website features a modern design that reflects our commitment to providing an exceptional user experience. With intuitive navigation, you can effortlessly navigate through our extensive range of yachts, services, and information.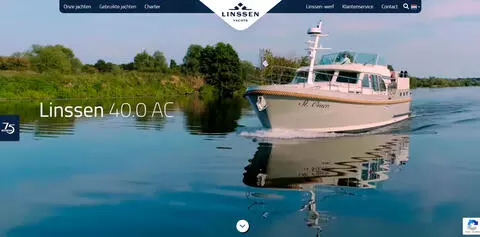 Modern Design and Intuitive Navigation
Our new website boasts a sleek and contemporary design that showcases the elegance and sophistication of our yachts. The clean layout and visually appealing imagery allow you to immerse yourself in the world of Linssen Yachts, capturing the essence of our craftsmanship and attention to detail.
We understand the importance of user-friendly interfaces, and our intuitive navigation ensures that finding the information you need is a breeze. Whether you're exploring our diverse yacht models, searching for technical specifications, or learning about our customization options, our website provides a seamless browsing experience.
Stay Informed with the Latest News
Stay up to date with the ever-evolving yachting industry through our dedicated news section. Discover the latest trends, technological advancements, and exciting events within the yachting community. Our news articles are regularly updated to keep you informed about Linssen Yachts' developments, new releases, and special offers. Be the first to know and stay ahead of the curve.
Discover More with Linssen Yachts
At Linssen Yachts, we pride ourselves on our exceptional craftsmanship, innovative technologies, and unwavering dedication to creating unforgettable experiences on the water. Through our website, you can explore our extensive range of luxury yachts, each meticulously designed and handcrafted to exceed expectations.
Whether you're a seasoned yachtsman or new to the world of boating, our website provides comprehensive information on our models, their features, and customization options. Get inspired by the stunning visuals, delve into the technical specifications, and learn more about our commitment to sustainable yachting practices.
Contact Us and Start Your Journey
Ready to embark on your yachting adventure? Our website makes it easy to connect with us. Simply fill out the contact form, and our team of experienced professionals will be delighted to assist you with any inquiries or requests. Let us guide you through the process of selecting the perfect Linssen yacht that suits your preferences and lifestyle.
Visit the all-new Linssen Yachts website today and experience the epitome of luxury, craftsmanship, and innovation. Start your journey and create timeless memories on the water with Linssen Yachts.