70 jaar familie, innovatie en traditie… Linssen Yachts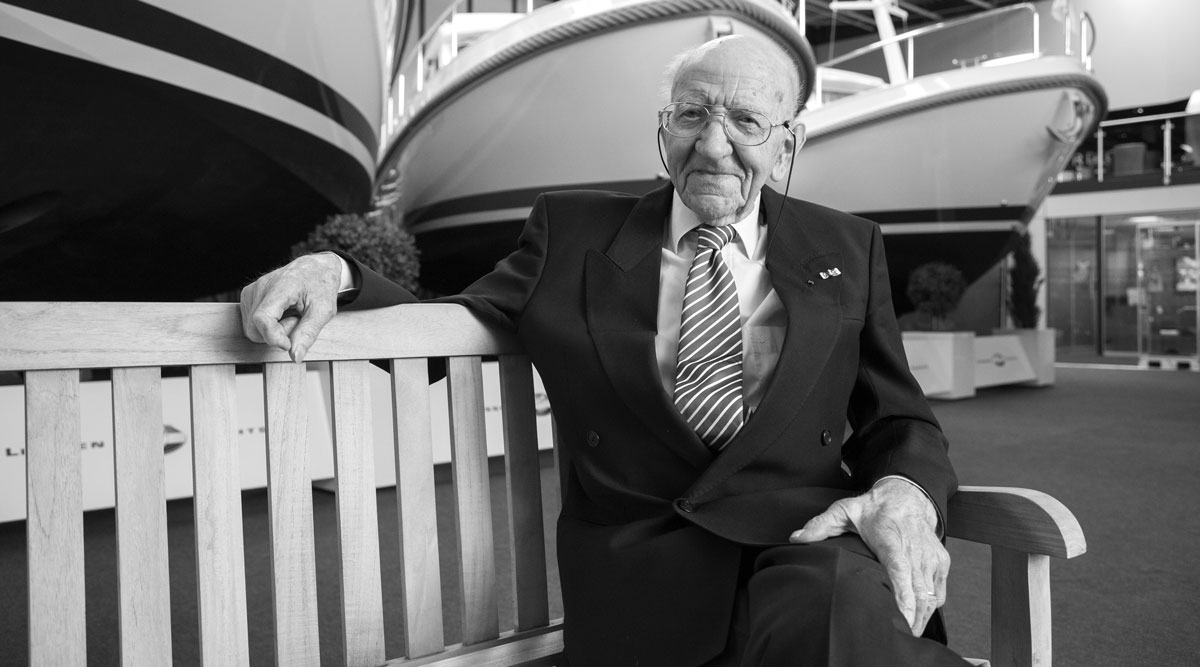 Jac. Linssen sr.
* 24 January 1922 – † 19 March 2020
---
Waar de onweerstaanbare drang om fantastische waterwegen te bevaren en op bijzondere plekken af te meren vraagt om het beste en meest geschikte schip, daar staat de familie Linssen al drie generaties lang, met al haar kennis en vakmanschap, klaar voor haar opdrachtgevers.
Als familieonderneming laten wij ons leiden door respect voor mens en omgeving alsook door waardering voor edele materialen. Dankzij deze passie zijn wij in staat zijn om een meerwaarde te scheppen die boven een 'goed product' uitstijgt.
Op onze locaties in Maasbracht en Echt bouwen wij in die zin niet alleen luxe motorjachten, maar maken wij vooral dromen waar.
De onvergelijkbare symbiose van juist die specifieke materiaalkeuze, het consistente design en het knappe vakmanschap van onze werknemers in samenklank met moderne processen en machines, maakt een motorjacht gebouwd in Limburg tot een échte, unieke Linssen!
Enthousiaste ontwerpers
Uw passie voor het varen inspireert onze deskundige ontwerpers telkens weer tot het creëren van een collectie waterverplaatsende motorjachten die internationale erkenning genieten. Uw Linssen is uw betrouwbare bondgenoot wanneer u weer koers zet naar een volgend spannend reisdoel. Het team laat niets aan het toeval over. Diepgaande werkvoorbereiding en een modulaire bouwwijze, waardoor belangrijke componenten al vóór hun definitieve plaats in de romp uitvoerig kunnen worden getest, geven u die zekerheid van volwassen techniek. Dankzij onze schaalgrootte kunnen wij bij Linssen zover gaan in productontwikkeling en systeemnormalisatie. In het belang van uw veiligheid en uw comfort.
Betrouwbare herkomst en alleen het beste
Romp en opbouw worden uitsluitend vervaardigd van origineel S235JR-staal. Elke Linssen wordt zorgvuldig geconserveerd, waarbij wij gebruik maken van hoogwaardige lakken van toonaangevende, internationale verffabrikanten. De kostbare tropische houtsoorten komen van gecertificeerde plantages en worden geleverd door leveranciers waarmee wij vaak al drie generaties lang samenwerken. De voortstuwing en technische installaties worden in elk nieuw Linssen- model optimaal geconfigureerd en samengesteld met componenten van eersteklas fabrikanten en toeleveranciers. Na een zorgvuldig traject van testen en verbeteren gaan onder andere de machinekamer-, tank- en accumodules, de kabelbomen, de verwarmings-, warmwater- en filterunits evenals het prefab-leidingwerk in seriematige productie en doorlopen zij een nauwgezette kwaliteitscontrole.
Breed spectrum
Nooit vraagt een Linssen-salespersoon: 'Welke boot wilt u kopen?' Die vraag beantwoorden wij samen met u, nadat wij in alle rust gesproken hebben over de gebieden die u wenst te bevaren, over de samenstelling van uw gezin of crew en mogelijke gasten, over uw wensen ten aanzien van uitvoering en navigatie-uitrusting, over uw persoonlijke opvattingen wat betreft luxe en comfort alsmede over uw persoonlijke budget en uw langetermijnvisie daarop. Het modellenspectrum van Linssen is ook breed in financiële zin. Wij bieden oplossingen voor een jong gezin nog vol in carrièreontwikkeling, voor de gesettelde rentenier, voor de ex-zeiler of ex-camperchauffeur dan wel voor de investeerder die zijn schip wenst in te brengen bij een van de aangesloten Linssen Boating Holidays®-partners. Uw Linssen-vertegenwoordiging op de werf of in uw regio in Europa adviseert u graag. Maak gerust eens een afspraak voor een vrijblijvend gesprek.
Vakmanschap, traditie, hightech, innovatie en normalisatie zijn geen tegenpolen, maar juist teamgenoten die samen een topproduct garanderen. In de jachtbouwsector is er maar één bouwer die deze eigenschappen op onnavolgbare wijze heeft verenigd. En dat is onmiskenbaar: Linssen!
De realisatie van uw watersportdroom: bij Linssen een inspirerende belevenis
Eén van onze trouwe klanten, die in de loop der jaren 'doorgroeide' van 10 naar 15 meter (waardoor hij samen met de Familie Linssen maar liefst vijf keer de Champagne tegen de boeg gooide), sprak eens de woorden: "If you buy a Linssen, a lot more comes with the deal!" In die ene zin verwoordde hij alles waarvoor wij staan. 'De boot' is het instrument waarop u met uw gezin en vrienden de mooiste vaarvakanties doorbrengt. 'De werf' is het instituut dat u lid maakt van een grotere gemeenschap, u laat delen in ervaringen met mede-eigenaars, u de zekerheid biedt van een netwerk van deskundige dealers in Europa, u automatisch twee keer per jaar het Linssen Magazine toestuurt, u van harte uitnodigt op beurzen en in-house events en u ook de mogelijkheid biedt om lid te worden van één van de internationale Linssen owners clubs…
Linssen. Made in Holland!
Nederland is een scheepsbouwnatie die haar gelijke niet kent. Binnen deze wereldwijd erkende reputatie is Linssen de onbetwiste specialist en marktleider in het segment van stalen motorjachten van 8 tot 15 meter lengte. De onweerstaanbare uitstraling, de tijdloze verschijning wars van modegrillen, de markante vorm en haar spreekwoordelijke waardebestendigheid bevestigen dit keer op keer. In welke Europese haven u ook afmeert, met uw Linssen bent u altijd een welkome en geloofwaardige gast.
Een ware kenner kiest voor Linssen