Pre-owned Linssen yachts

In addition to the latest range of new boats, Linssen Yachts also offers a selection of pre-owned boats.
Linssen Yachts offers three categories of pre-owned boats: boats from the Linssen Collection, Pre Owned boats and brokerage boats.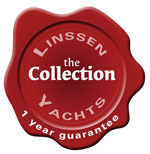 1. The "Linssen Collection"

The Linssen Collection is a small, unique selection of recent (maximum 5 years old), pre-owned Linssen boats.

All boats with the Linssen Collection label have been fully maintained and where necessary refitted and therefore are in excellent condition. The "Collection" boats are offered with a twelve months boatyard guarantee.

2. Pre Owned boats

Linssen Pre Owned boats are maximum 10 years old and have been subjected to a thorough inspection. Further, the boat has received current engine (and generator) service.
They are professionally cleaned, polished, and new antifouling and magnesium anodes are fitted.
Because Pre Owned boats are owned by Linssen, you will receive a three months boatyard guarantee.


3. Brokerage boats

Brokerage boats receive the same thorough inspection process as Pre Owned boats.
In this case, Linssen Yachts acts as the broker and is not the owner of the boat in question.
We offer brokerage boats for sale on behalf of the current owner.

(* see the Linssen Yachts Guarantee Plan for Collection & pre owned boats conditions)