Integrated CAN-bus Controlled Electric Supply System. ICCESS for short. Maybe you've heard the term before. Or read it on the control panels we use in our 30.0, 35.0, 450, new 480 and 500 models. With ICCESS you always have all the important information to hand and you can easily operate the main functions on board your yacht. But ICCESS also provides clarity and convenience in the engine room. It's a highly serviceable system. This is good for you, but also for the service technician you might get on board.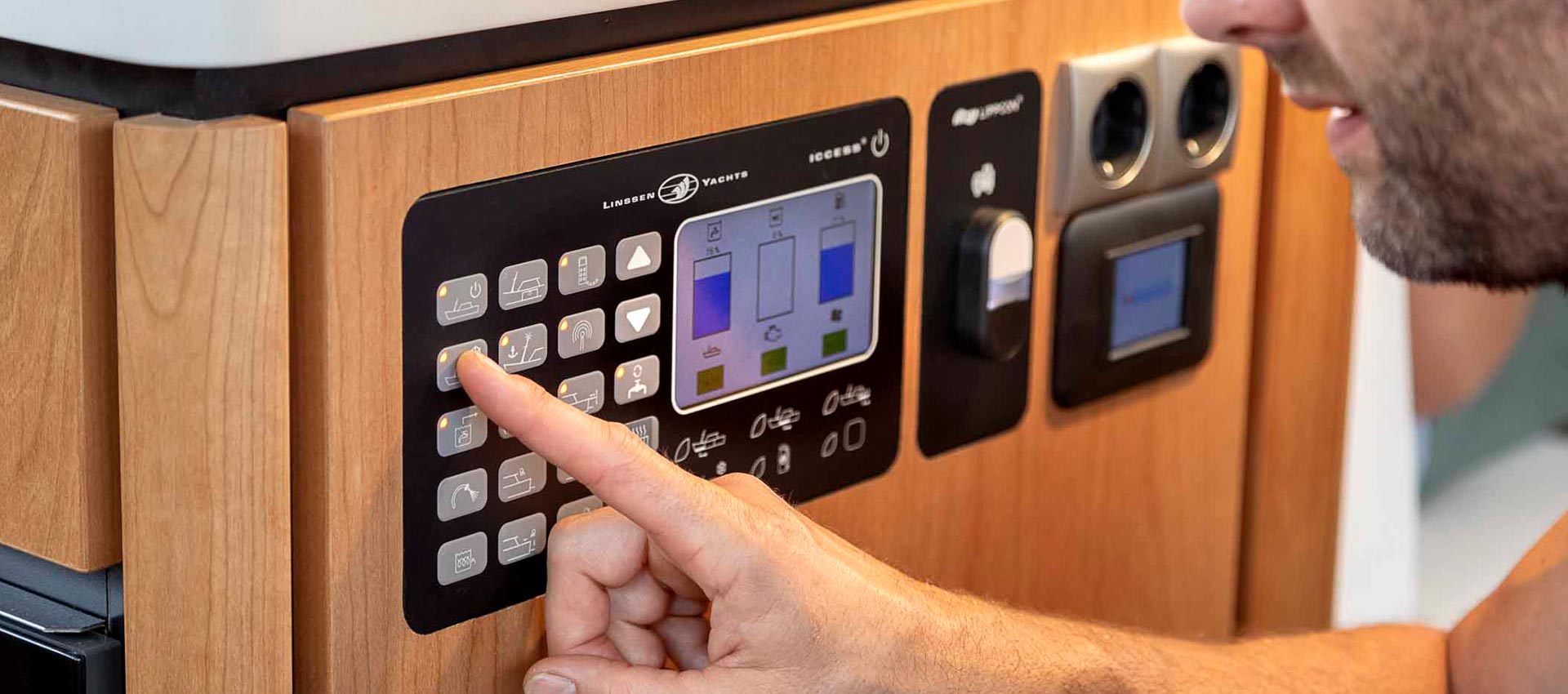 ---
There was a time when we had to pull the necessary metres of cable on board our yachts to make all the electrical systems work. At Linssen Yachts, we thought there had to be a more efficient and better way of doing this. And so our engineers have been working on this issue. With a successful result.
Linssen CAN-bus version
Ed Houben: "Nowadays, shipbuilding is also increasingly using CAN-bus (Controller Area Network) systems. This allows electronic devices to communicate with each other without the need for a separate cable for each communication flow. With most CAN-bus systems, however, you can still see that parts are installed all over the boat. This means that in the event of a malfunction, the user first has to search through countless hatches to trace the component in question. We didn't want that. That's why, being stubborn, we've come up with a Linssen version: ICCESS."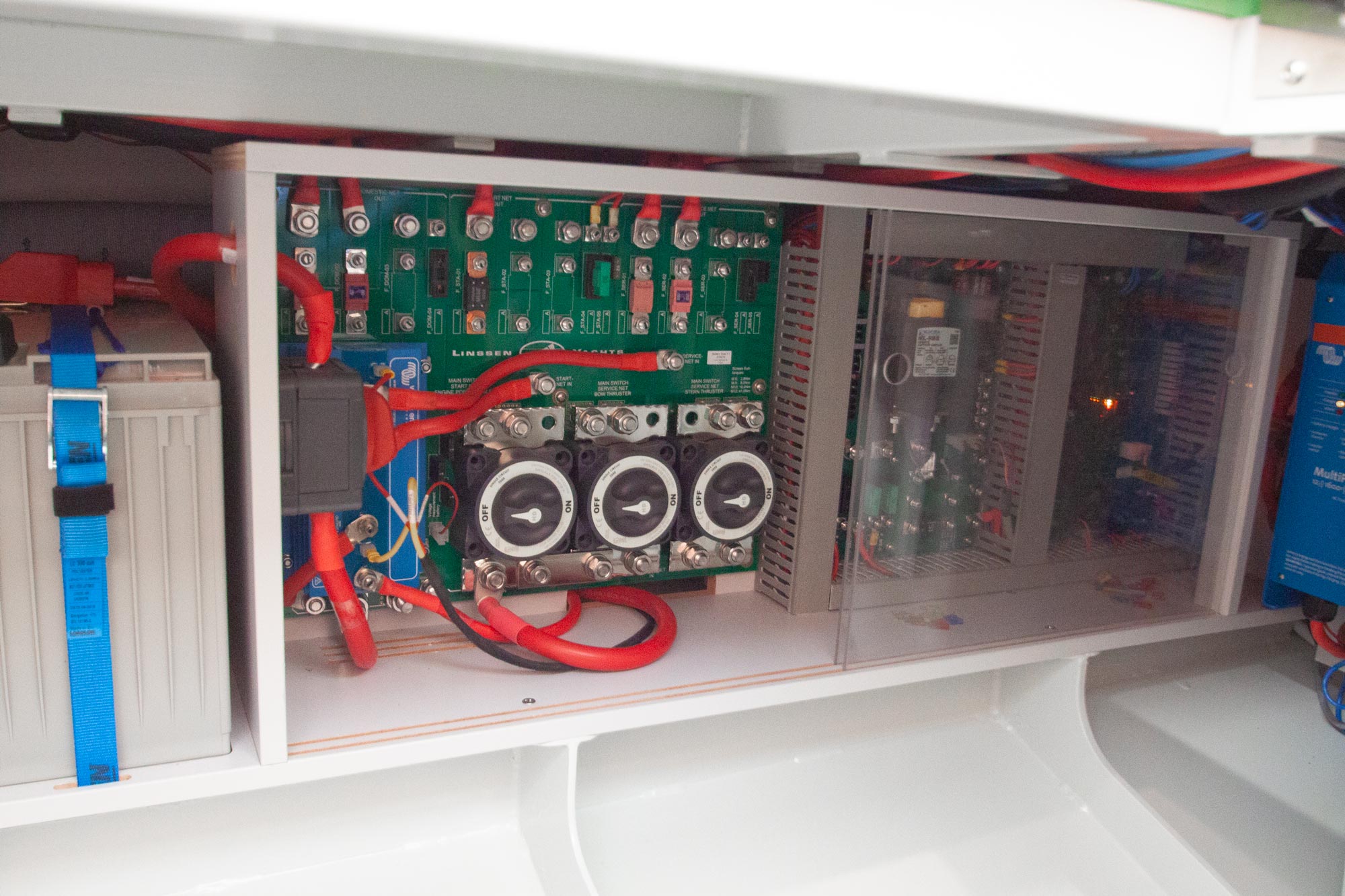 Anything that needs power has a cable attached to it. The idea behind ICCESS is that all these cables come together in one central place in the engine room. From this point, one thin cable runs to the control panel. It's a great example of system integration, if we say so ourselves.
New control panels
You will find two ICCESS control panels on board our 30.0, 35.0, 450, 480 and 500 models. One panel is located in a central position in the living area, one panel next to the steering position. These panels, which used to be larger in size, have also been redesigned for ease of use. Our partner KesselsGranger was responsible for the design, and the pictograms on the panels were also custom-made for us.
Ed Houben: "A great deal of thought has gone into this. It has become an easy-to-read panel in which the icons make the various functions clear at a glance. From switching on the lights in the engine room to operating the electric anchor winch. It can be done at the push of a button. The display shows information such as the current level of the various tanks and battery voltages. Safety and warning signals from the on-board system also flash up on the panel."
Serviceability
Imagine you're experiencing an electrical fault. When you contact our service organisation, the simplicity of ICCESS means that in many cases we can quickly point you to the right place in the engine room. And often also to the right component, thanks to the standard numbering system we use. A service technician who has little knowledge of CAN-bus and who comes on board with you, will undoubtedly be able to work with ICCESS. This is mainly due to the high degree of uniformity combined with conventional electrical components.
Ed Houben: "ICCESS is pretty dummy-proof. Of course, CAN-bus is a modern technology, but we have cleverly combined it with conventional electrical engineering. An average mechanic can handle that. ICCESS is our innovative answer to the makeshift cabling that you still too often encounter in the engine rooms of 'modern yachts'. We will therefore eventually install it in all other yachts in our Grand Sturdy and Variotop® series."
The Linssen Variotop® is the unique fully automatic folding roof that combines the interior helmsman's position, the exterior helmsman's position, bimini and flybridge to produce a single comfortable wheelhouse. 
---
From shelter to a fresh breeze
You can stand or sit at the convenient helmsman's position. You can sit on the extremely comfortable two-person helmsman's bench. This electrically operated bench can be raised or lowered or moved forwards or backwards at the single press of a button. It is important that you always select a position that gives you a safe feeling and offers the best all-round vision.
If you have opened the Variotop® and lowered the bench as far as possible, you will be comfortably sheltered by the front windows. In the bench's highest position, you can enjoy the fresh breeze. Your passengers can keep you company from a second comfortable bench on the port side.
From a lot of space to even more space
By opening the Linssen Variotop® and the hinged doors of the wheelhouse, you create oceans of space on board. The interior and exterior are joined together and the wheelhouse and aft deck are combined to create one large outdoor area. Even if the Variotop® is closed, you can still create this feeling of spaciousness thanks to the two hinged doors that can open 180 degrees. The huge aft deck that results has a length of more than four metres. We predict that you will spend many hours here.
By placing one central helmsman's position under the Variotop®, we have created extra space for you in the saloon.
The space that was previously taken up by the customary interior helmsman's position has been used for even more comfort on board.
From wheelhouse to flybridge
A trip on a Grand Sturdy Variotop® means enjoyment in itself. But if the sun is shining too, it will be even more pleasant. There are several places on board where you can enjoy the sun. However, we understand that you will also wish to benefit from the sun at the helmsman's position. The Variotop® makes that possible.
With a single press of a button, you open the wheelhouse roof and within a few seconds you are in the open air and steering your Grand Sturdy 500 AC from a flybridge. If the sun's rays are too strong and you need to cool off, you can close the Variotop® for 80%. This means that you are no longer sitting in the sun, but there is a pleasant breeze blowing through the opening.
Saloon
The saloon offers everything you need to make a long stay both pleasant and functional. The three most important functionalities consist of:
• a spacious U-shaped bench with a low saloon table with a view of the standard 49'' flush integrated UHD LED TV;
• a face-to-face dinette (for four) or L-shaped dinette (for six) with a functional dining table for the daily meals or other functional activities;
• with the adjacent spacious galley that offers all required equipment as standard features, such as a refrigerator, an oven-grill-microwave combination, a dishwasher, a four zone induction hob, an extraction hood with exterior discharge, a separated waste bin, a stainless steel sink, a practical 'magic corner', a spacious and modern stylish Corian worktop and finally a coffee bar with a fully automatic coffee machine.
In other words: 100% complete!
Forward compartment
The forward compartment has two perfect guest rooms, one with a freestanding double bed and one with two single beds that can easily be converted into a spacious double bed. These two guest rooms have a separate shower and toilet space available.
Aft compartment
The aft compartment is the owner's domain. The splendour that this space radiates thanks to its versatile layout and well-considered details and material choice makes it an ideal place to be.
The broad 1.80 metre bed, the abundant storage possibilities with cupboards, shelves and drawers, the rear exterior view, the cosy seating on the starboard side, the versatile and chic dressing table on the mid-forward side, the minibar with glasses and cooling, a flush built-in TV, a very spacious shower and a high-quality bathroom complete the picture.
New styling
The interior styling has been brought into line with the elegant and timeless lines of the exterior. The styling is a product of many years of yacht building passion converted by the Linssen Design Team into this new standard. By combining various disciplines within the team such as interior prototyping, 3D design techniques, market research, materials knowledge, practical yacht building experience, interior architecture and nautical technology, a level of design technology is achieved that is way ahead of many larger yachts.
What is impressive is the great harmony but also the contrasts within the interior: variation brought together in one total styling.
To add the required individual touch, colour impressions have been combined in close cooperation with the interior architect based on the nautical themes white, glacier, sand, grey, marine and aqua, which provide the boat with different characteristics. The different colour impressions can also be applied to the exterior, more or less based on the same themes, by using colour variations in coating, canvas and cushions.
Special focus on luxury and comfort in the interior
The new interior is characterised by extensive detailing in the styling, choice of materials and colours. The combination of contrast resulting from the many details on the one hand and the total harmony on the other has resulted in an exceptional boat in its class.
A focus on the interior functional details is also important.
Countless storage possibilities in the form of shelves, cupboards and drawers ensure a practical boat. However, the various leather-covered storage spaces close to the beds, bench and helmsman's position give the interior an exceptionally luxurious feeling.
---
A unique interior for a unique boat, exceptional in its class…
In short, almost 70 years of yacht building experience brought together in our new flagship.
Linssen Yachts usp's
Most models from the Grand Sturdy series are available as AC (with aft cabin) or Sedan (with open cockpit). Both versions will appeal to you with their charm and unique features. 
Sedan
Sedan models have luxurious solid teak double doors, which can be opened and secured at 180°. This means that while you are at the helm, you still have optimal contact with the other voyagers in the saloon or the cockpit.
The Sedan models can also be supplied with the Linssen Variodeck. This large aluminium sliding roof means that while you are at the wheel inside, you still have a feeling of the great outdoors.
AC
In contrast, the AC models have a huge aft cabin with a double bed and toilet/shower*. There is a spacious aft deck with a folding roof as a standard feature. This offers protection while you are at the helm outside. The aft deck offers excellent views of the passing landscape. Each Grand Sturdy 40 ft and above is an imposing presence with many hidden gems. From the 40.0 onwards, these yachts provide living space for as many as eight people. The extra side cabin, with two single beds, is remarkably spacious and has a lot of cupboard and drawer space.
The efficient layout of these yachts gives an unparalleled impression of space.
Linssen Compartment Controlled Heating (CCH)
Linssen Compartment Controlled Heating (CCH)
One of the first requirements of a comfortable yacht is an effective heating system. If there is one item in the yacht-building sector that exists in many versions, it is the heating system. Perhaps this is the influence of the housing sector in which many systems have also been used over the years.
A guiding principle for Linssen Yachts is learning from our customers and their and our own experiences. After listening to what they said, the following experiences and requirements emerged:
Operation via the batteries in order to be independent, together with efficient electricity consumption
Efficient in diesel consumption to generate heat
Quiet both as regards exhaust and heat generation
Short warming-up time, but also rapid additional heat if a door or hatch is open
Simple and therefore user-friendly, precise temperature adjustment
Reliable, low susceptibility to failure, low service intervals
Easy to service and low maintenance costs, sufficient service possibilities
Heat available everywhere, in every compartment but preferably also in the open cockpit or on the aft deck
Demoisturising characteristics to reduce condensation
Individual adjustment possibilities per compartment
When we studied this requirements package, we concluded that such a system was not yet available on the market. No sector innovations had been made in the heating system for quite some time. Systems from the housing market had been slavishly copied in miniature and used in yacht building, with all resulting consequences. Air heating systems have limited adjustment possibilities and require a limited number of air blowers, central heating systems take up a great deal of cupboard space and consume a lot of energy, floor heating systems are complex, sensitive and slow to respond, and systems based on air conditioning are noisy and require 230V.
After careful research, Linssen is now launching a revolutionary system: the Linssen CCH, or Linssen Compartment-Controlled Heating system. This system meets all the above requirements and may rightly be called 'innovative'. The system is available starting from our 12-metre yachts and consists of 2 heating sources, 7 heat distributors, 2 digitally adjustable thermostats and operates independent of external sources on a combination of energy from the service battery set and diesel from the main fuel tank.
Every space has its own heat distribution point (two in the saloon/galley). There is one digital thermostat for the saloon/galley and one for the owner's cabin, the other cabins and the toilets. As a result, the living space can be properly warmed during the day without having to close valves or taps in the cabins, and at night the cabins and sanitary facilities can be pleasantly warmed. It should not be forgotten that as a result of the digital thermostats, the heating automatically remains within the set temperature range. Another exceptional feature is that because of the insulated pipes, no heating is lost in spaces that do not need to be heated, so that the system is more precise, faster, more powerful and more efficient.
It is also possible to programme set heating periods, so that in the case of a longer stay, the transition from the day to the night system and vice versa is more pleasant. This has the advantage that the spaces are heated only if there is a need for such, without any energy inefficiency.
The Linssen CCH heating system therefore guarantees a quiet, efficient, powerful, low-energy, user-friendly, demoisturising and – particularly – pleasant heating system. And that is exactly what an experienced yacht owner is looking for.