INVITATION Linssen Spring Boat Show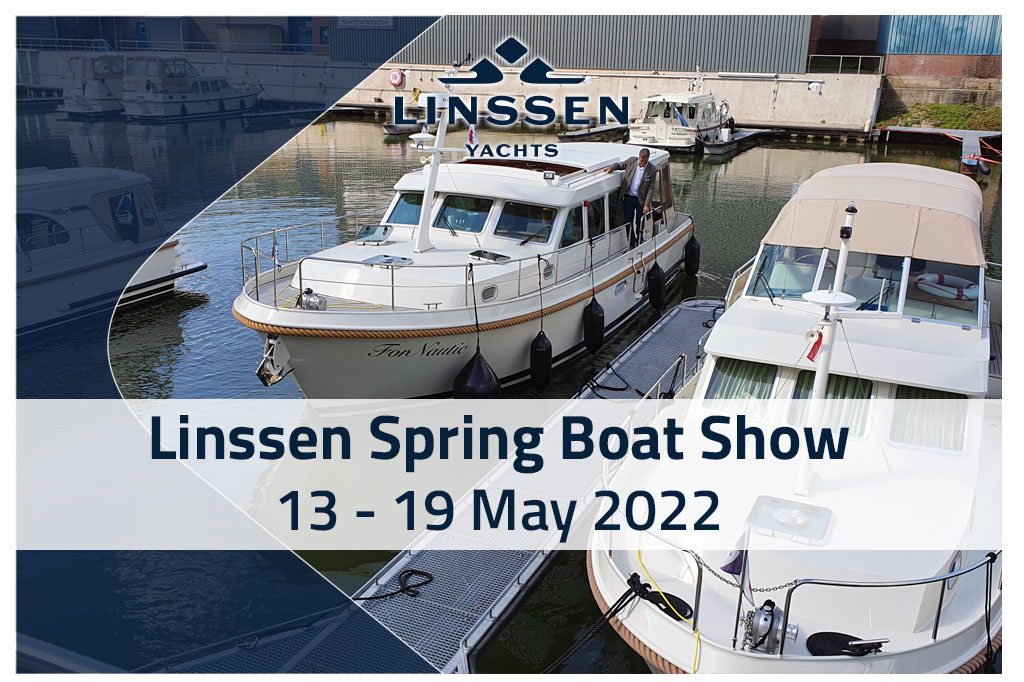 Available for trials:
Grand Sturdy 500 sedan
Grand Sturdy 45.0 sedan
Grand Sturdy 40.0 AC
Linssen 40 SL sedan
Grand Sturdy 450 AC Variotop®
Grand Sturdy 30.0 sedan
Linssen 40 SL AC

On display in the showroom:
WORLD PREMIERE: Linssen 45 SL AC

Would you like to test sail a Linssen?
You can take this opportunity during the southern Netherlands' premier test sailing event: the Linssen Yachts Spring Edition. We have a wide selection of Linssen yachts in various lengths and designs ready and waiting for you at our marina. So you can experience for yourself all their features and excellent sailing characteristics.

Dates: Friday 13 to Thursday 19 May 2022
Location: Linssen Yachts showroom and marina
Time: daily from 10 AM - 4 PM

Compare the AC with the Sedan and find out what you like best. Or are you hesitating between 30 and 35 or maybe 40 and 45? Or are you considering a yacht with the Linssen Variotop® or our biggest Sedan, the Grand Sturdy 500? We would be happy to show you the differences and similarities between the models.

We also have several new and pre-owned yachts on display in the showroom, which allows you to take your time viewing your dream yacht in detail.

Our advisors will be happy to help you with all your questions before, during and after the construction process in the Linssen Journey.

• Boatyard tour
• Test sailings
• Trade-in valuation
• Grand Sturdy, Linssen SL,
Variodeck or Variotop®?
• AC (with aft cabin) or Sedan
(with open cockpit)?
• What length, how many cabins?
• Advice on financing
• Clear order acknowledgement

• Prompt delivery date
• Transparent building process
• Viewing your yacht during
construction
• Comprehensive quality checks
and tests
• Exterior and interior cleaning
• Official handover
• Sailing training (customised if
required)
• Insurance advice

• Free mooring at boatyard
• Help with VHF and special
documents
• Interior styling
• Transport service
• Maintenance service
• Damage and repair service
• Cleaning and washing
• Arranging moorings

2020 Spring Boat Show impressions