"I was always ahead of the game. Where other people hesitated, I was already on my way," says 97-year-old Jac. Linssen. This enormous drive for continuous innovation helped him to get through turbulent times and build a glorious yachtbuilding business.
An interview with the founder of Linssen Yachts
---
Sailing into the future, defying storms
"So Jac., now show what you can do," Jac. Linssen said to himself as he slid the key into the lock of his own carpentry business on 1 April 1949. He didn't have much time to think about it, because a neighbour promptly threw his garden gate into the courtyard. Could Jac. Linssen fix it for him? This was the start of what would later develop into a major yachtbuilding business, Linssen Yachts.
The fact that this is a company that was created mainly through passion and perseverance is evident from the years before that day, 1 April, in 1949. Jac. Linssen's mother wanted him to become a farmer and succeed his father, because his parents were seasoned farmers who put their heart and soul into working the farm. But Jac. Linssen wasn't interested. "I already knew that at primary school, when I was six years old," he says. "I wanted to draw." After leaving school, his ambition became more focused. He wanted to draw houses, and become an architect. However, nothing would come of it, because mother Linssen wanted Jac. Linssen to go to agricultural college. "Then, for the first time, I was very disobedient and said to her: 'I'm not going there'. Then you'll become a farmer without going to agricultural college', said mother."
For two years, Jac. Linssen worked on the farm against his will, for as a fourteen or fifteen-year-old he had no other choice. But after those two years, his patience was exhausted. Fortunately, Linssen's father was now behind his son's choice, and after a lot of urging, he said that Jac. would have to look for another job. "That wasn't easy. It was the early 1930s, and there was a depression. But I had made my plan. I wanted to become an architect, if necessary working in construction, because that's where people draw, where houses are built." Jac. Linssen ended up working for carpenter Sef Hanne, who taught him the tricks of the trade. He started out as an errand boy, but very soon he was making pieces that others had not yet mastered after three years of woodworking.
On 6 December 1937 Jac. Linssen joined Tinnemans-Houben (run by the foster son and son-in-law of his mentor Sef Hanne), a firm specialising in metal, engineering and woodworking. That day, for the first time, Jac. Linssen crossed a gangway on to a ship. Laying a floor, repairing a truss... That's how Jac. Linssen came into contact with ship interior design at a very early stage. However, after only a year, the business split up and Jac. Linssen initially joined Tinnemans' company, because it focused mainly on woodworking. Houben's company started to focus more on metalwork.
Second World War
The Second World War broke out when Jac. Linssen was eighteen years old, and Rotterdam was bombed on 14 May 1940. After the bombing raid, one of the boats that was hit sailed to Maasbracht to have its completely burnt-out cabin rebuilt. "A nice job for Jac. Linssen", thought his boss, but there was one condition: the new cabin had to be finished within six weeks. "The skipper said to me: 'If you get it finished, I'll give you a 10 guilder tip.' That was a lot of money back then. At that time, you could buy a bike for 15 guilders," Jac. Linssen recalls. He himself was earning 3.50 guilders a week. "I still don't understand how I got it done. Two small bedrooms, a staircase, wall cabinets, a kitchenette..., but after six weeks I was taking my tools off the boat. Job done."
In other words, Jac. Linssen was already a good craftsman at a very young age. Nevertheless, for four years he cycled to Echt in the evening after work to attend the architectural drawing department of the technical college, because he still wanted to become an architect. Later, he also attended commercial college in the evenings.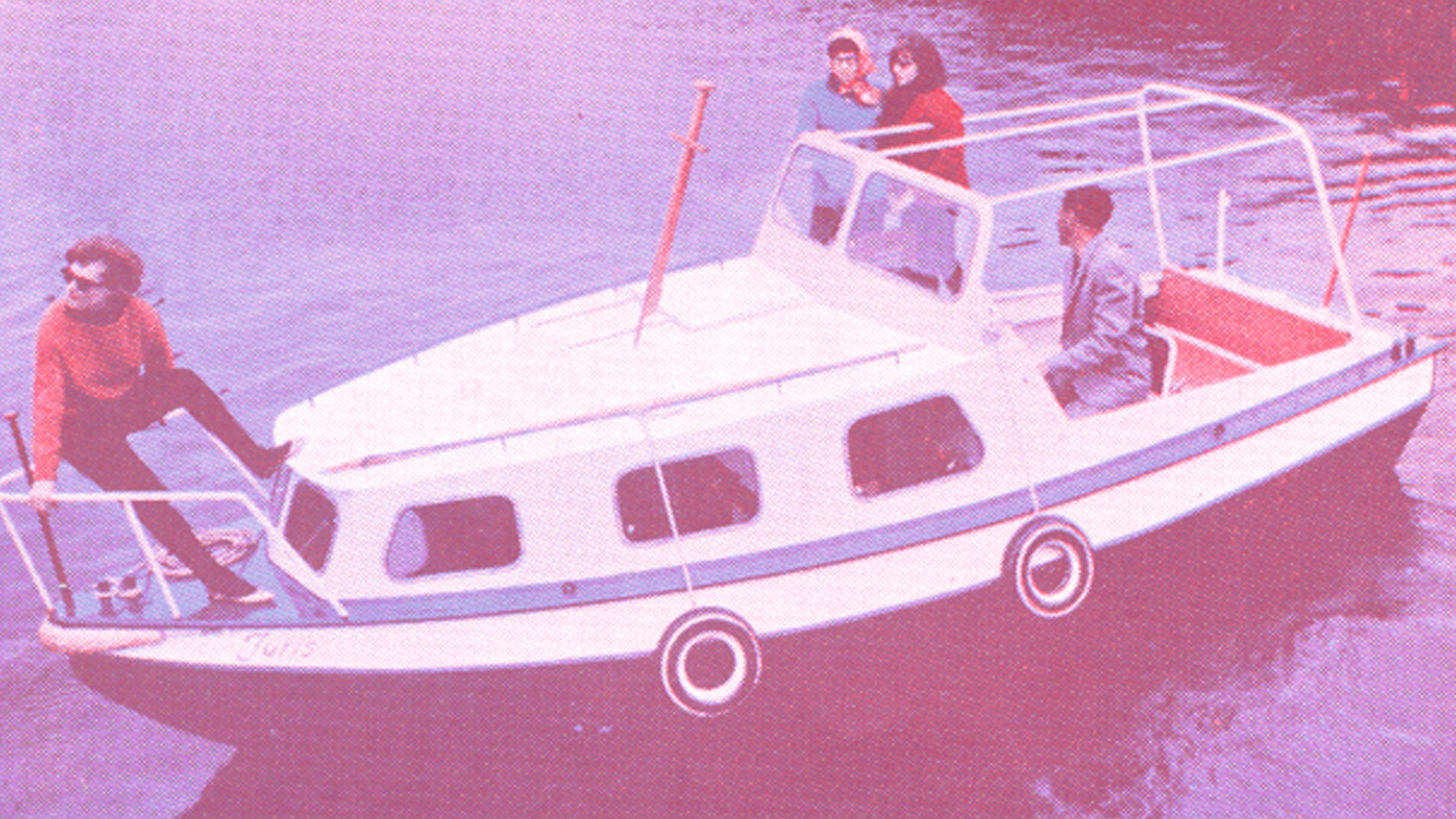 Ships' graveyard
Seven months before the liberation of Maasbracht, the retreating Germans ordered everybody on board the 240 barges that were in port at that time, to leave. One day later, on 30 September 1944, Jac. Linssen saw with his own eyes the inland vessels being dynamited and sunk one by one. The barge skippers' families were out on the street and Maasbracht harbour was transformed into one big ships' graveyard.
On Jac.'s 23rd birthday, 24 January 1945, Maasbracht was liberated. Shortly afterwards, his former employer Sieb Houben came to Jac. Linssen and asked him if he wanted to head up the large salvage team tackling the ships' graveyard. All the wrecks had to be cleared away. Jac. Linssen remembers it well: "'I need you,' said Houben." You know all about boats, understand the mentality of the barge skippers and can deal with them. You can also estimate values and assess whether the wood can still be saved or whether it has been spoiled by the water.''' Eventually, 165 out of 240 vessels were repaired and rebuilt under his leadership.
Machinale Houtbewerking St. Jozef
In 1948 Houben stopped repairing boats and the firm continued making boilers. The time had come for Jac. Linssen to start working for himself. His ambition to become an architect had been overruled by the trade into which he had actually been enrolled automatically in recent years, partly due to working on the ships' graveyard. His wife Anneke, whom he married in 1948, fully supported him in his plan. "Anneke stood before me, stood next to me and especially stood behind me," says Jac. Linssen. And his father-in-law allowed him to use the empty shed next to his house. So, on 1 April 1949, he turned the key in the lock of his own business, which he named Machinale Houtbewerking St. Jozef.
Things were not easy at the beginning, says Jac. Linssen himself. At first, he met with a lot of opposition from owners of the surrounding businesses, who saw Jac. Linssen as a major competitor as a furniture maker and ship interior builder.
Jac. Linssen tackled any job that came his way, whether it was a garden gate or a wooden garage for a neighbour. And soon the first skippers started to appear. He can still remember the first one very well. "Skipper Ter Velden. I made him a new wheelhouse. Of course it was just that bit nicer, that bit more refined than the one he had before." This skipper was so happy with the result that he later sent three fellow skippers to Jac. Linssen for new teak wheelhouses.
After three years, Jac. Linssen had already grown out of his father-in-law's shed and built a new "factory" behind his own house (which was next to that of his parents-in-law). But Jac. Linssen never forgot his first helping hand: "My father-in-law helped me so much by giving me his shed that I was later able to establish 'the most beautiful carpentry factory in the south of the Netherlands'".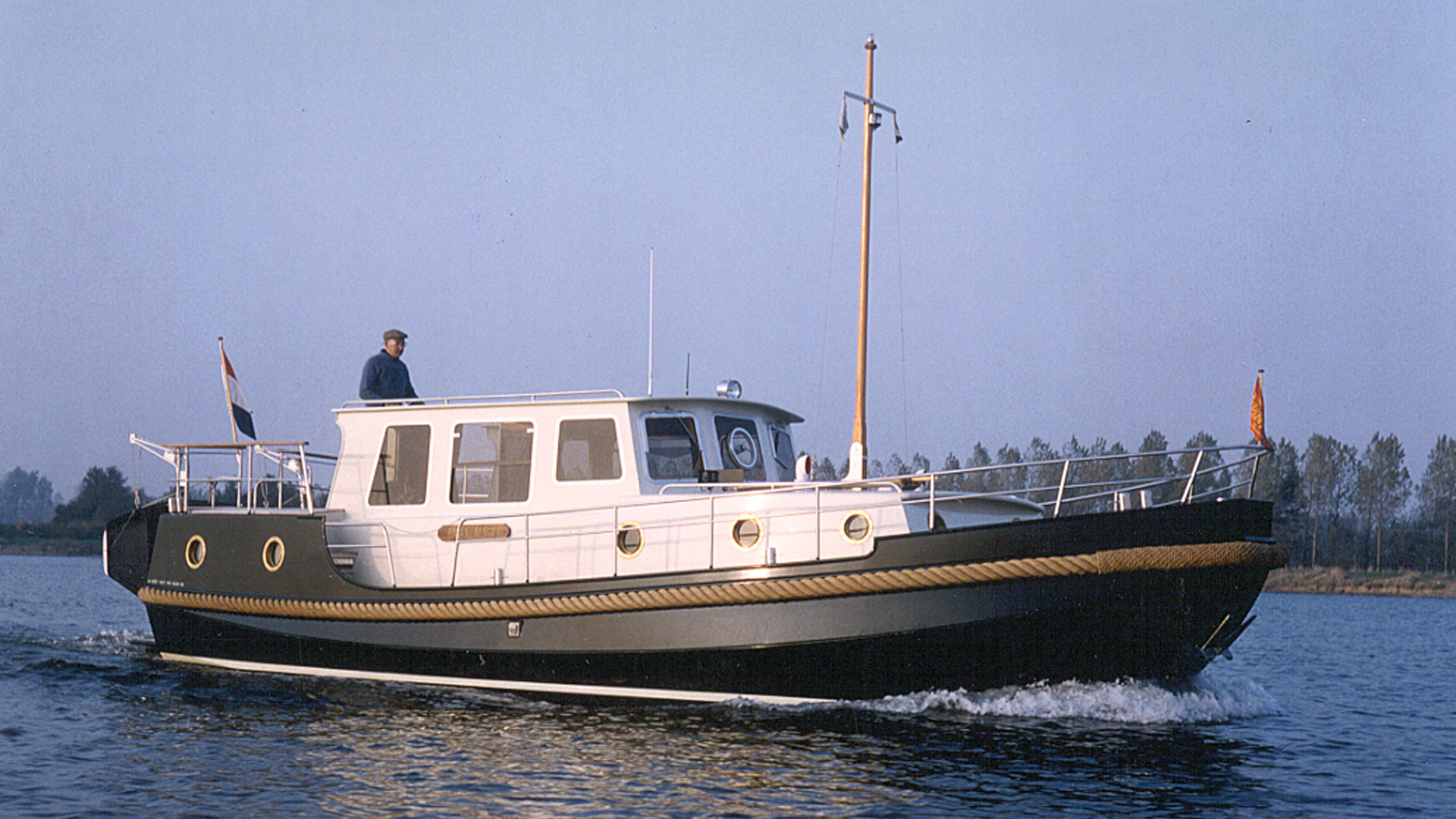 Steering wheels
One skipper after the other came knocking on the firm's door. There was even a waiting list. But most of the skippers waited patiently until it was their turn, because they really wanted a beautiful St. Jozef wheelhouse. Jac. Linssen needed a lot of teak for all those wheelhouses. "I used to buy it on a large scale directly from the importer Maatschappij de Fijnhouthandel in Amsterdam, eighty teak logs for tens of thousands of guilders at a time. The timber trade would deliver two or three logs on demand, sawn to a thickness of 31 millimetres, exactly as I wanted them to be."
Of course, a lot of teak was left over from these large planks. However, Jac. Linssen didn't allow his workers to burn this expensive wood in the stove. "I wasn't frugal when I had to be generous but, above all, I wasn't generous when I could be frugal. I hated throwing good material away." But what do you do with so many small pieces of teak? I'm going to make steering wheels out of them, Jac. Linssen thought. A steering wheel consists of many small segments, for which he could make perfect use of the "scrap wood". Many colleagues and skippers said he was crazy. After all, there were only two companies in the Netherlands that could make steering wheels, namely Koets in Hoogezand and Van der Staay in Ridderkerk, and they had been doing so for almost a hundred years. "Well, I'm going to do it for another hundred years," said Jac. Linssen defiantly when another skipper expressed doubt about his idea. And after hours of drawing, fitting, measuring, drilling, sawing, carpentry and sanding, his first steering wheel was finished. His design, featuring a patented hub, was so robust that in the Belgian Congo they called it the only tropical steering wheel that exists. "Because of the hot and dry conditions, other steering wheels quickly became wobbly, but mine could be adjusted every time." Jac. Linssen had developed a cast iron hub in two parts, into which not only each spoke was screwed, but gibs were also bolted through the hub between all the spokes. If anything came loose, it could always be tightened again with a spanner.
Eventually, six to ten steering wheels could be made from the "scrap wood" from twenty wheelhouses. This way of working saved a lot of money. In the end, sales took off to such an extent that Jac. Linssen had to make steering wheels on a large scale. "We even had to saw pieces of teak off big planks of wood to make all the steering wheels. The scrap wood had simply been used up, but... it was paid for!"
What is special is of course the fact that even the Dutch royal yacht, the Groene Draeck (Green Dragon) has a steering wheel by Jac. Linssen. "I donated it to honour Princess Beatrix's eighteenth birthday. King Willem-Alexander is still using it today."
Bunker port
By the first half of the 1950s, Jac. Linssen had already reached the point where he could carry out complete ship repairs. Expansion was therefore desperately needed and for this purpose temporary premises were built for both woodworking and metalworking at the bunker port in Maasbracht. "There we also started making rowing boats and the first wooden speedboat", says Jac. Linssen. The first real steps towards the future Linssen Yachts had been taken. In 1957 the first motor yachts followed, naturally enough designed by Jac. Linssen himself: the St. Jozefvlet 500, 600 and 700.
Industrial port
By then, the industrial port in Maasbracht had been completed and Jac. Linssen established a new ship repair business there. "I was the first to open a factory on the new industrial estate, just like I was the first to build a new house in Maasbracht after the war. I was always ahead of the game. Where other people hesitated, I was already on my way." Jac. Linssen still had to shore up the harbour itself and prepare the bank in such a way that boats could moor there. It was there, in the industrial port, that Jac. Linssen started building yachts in series. "At any one time I would have two of them in the showroom and five or six under construction. There was a lot of interest in them."
In 1964 Jac. Linssen developed the first cruisers: the Limburgia series. At first they were 8.30 metres long but, at the request of customers, that later became 8.50 metres and then 8.90 metres.
But in 1966 Jac. Linssen got the fright of his life. The new government increased the tax on recreational craft from 4 percent to a whopping 18 percent. "I watched the draft budget announcement on TV with my heart in my mouth. During dinner, two customers called to cancel their orders. The tax increased by 14 percent. A huge amount. Later that week, another six customers cancelled their orders. I think I had fourteen yachts on order. More than half were cancelled." That was also the first time that Jac. Linssen had to let go a number of good craftsmen. With a heavy heart. More customers called to cancel their boat, but Jac. Linssen was able to come to an arrangement with them. He would absorb half of the additional 14 percent tax. "I was able to save the situation by doing so. Unfortunately, I did lose some good workers at that time." After fierce protests from the trade association, Hiswa, and marina associations, the scheme was later relaxed; the engine, the inventory and everything that was not attached to the boat were not subject to the tax measure. Despite this, the slump in boat sales lasted a few years. Jac. Linssen managed to keep his head above water by making interiors, including for shops and businesses. A number of craftsmen even came back.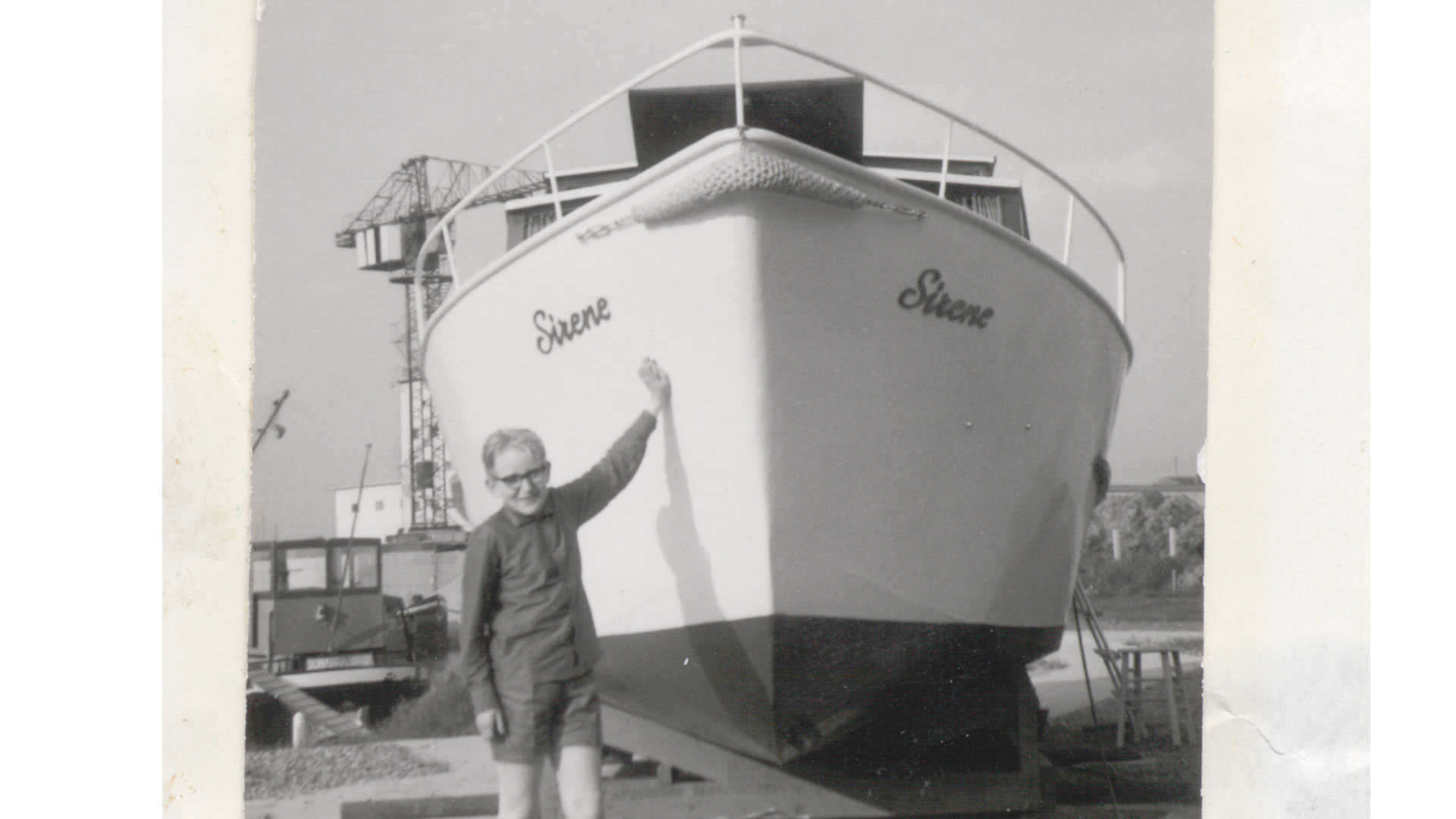 Jos Linssen, son
In 1968, Jac. Linssen gained a welcome additional member of staff when his eldest son Jos joined the company. Initially, father and son continued with their core business: ship repair. Later, however, there was so much interest in pleasure craft that one day Jos Linssen asked the question: "Shouldn't we be making a choice?" After all, the two parts of the business were so different in terms of refinement, construction, weight... "If you're welding a filthy black barge, the new, finely painted yacht next to it can get damaged just like that," says Jac. Linssen, who also realised that things could no longer continue as they were. In 1970, the switch was made and Jac. and Jos Linssen focused entirely on yacht building.
However, not long after that, the oil crisis broke out and the market completely collapsed again. "Prime Minister Joop den Uyl said on TV: 'Things will never be the same again.' The idea was to keep the curtains closed and the heating on low to keep fuel bills down. Well, in that case, you won't be allowed to sail a boat any more either... We thought we'd never make boats again." The company then fell back on ship repair out of sheer necessity. "We started seeking out the same customers that we'd turned down a few years earlier. But we also acquired new customers. Jos toured the country asking skippers for jobs."
Crisis over
But one day people came to check out a new boat. Luckily, Jac. and Jos Linssen still had a Limburgia, so they could test sail it there and then and the boat was sold immediately.
The business gradually started to flourish again and when Jac. and Anneke Linssen came home one day from a holiday in Friesland, Jos had designed six new boats. "'The crisis is over, we've got to have something to do,' Jos said to me. It's unbelievable how that happened," says Jac. Linssen now.
By this time, his sons Jan and Peter had also joined the company. Jan was sent to run a branch in Noordoostpolder. From there, Jac. Linssen had thought, tourists could easily sail to Friesland. However, even after five years no progress had been made. Sailing to Friesland on a free Sunday was impossible because the locks in this area were not operated on Sundays. Jan therefore returned to Maasbracht.
Jac.'s son Harry had also been brought in by now and initially devoted himself to the production of steering wheels. However, the demand for steering wheels declined as hydraulic steering came on to the market. The steering wheel became an exclusive product. And Linssen now had so much continuous yacht building work that it became more of a burden. "One day Jos told me he was going to stop making the steering wheels. Although I understood why, I thought it was a great pity as nobody could make them better. By then, Harry had become so familiar with the business that he could be deployed anywhere in the company.
Handing over
In 1975 Jos Linssen took the helm. The firm had 35 to 40 employees at the time of the handover. At that time, St. Jozef was one of Maasbracht's larger businesses. "I could never have imagined that it would eventually be like this," says Jac. Linssen. "I always aimed to have a business with six or seven employees, in which I wandered around in overalls and helped out." Jac. Linssen wore those overalls for a long time. He always spent half his time in the factory and half in the drawing office. "Even my old mentor Hanne took his hat off to me one day and said, 'You've done well.' But the biggest boost to the company's growth and expansion to make it what it is today is really down to Jos. I've nothing but praise for him! No-one can match him," Jac. Linssen concludes.
70 years of family, innovation and tradition… Linssen Yachts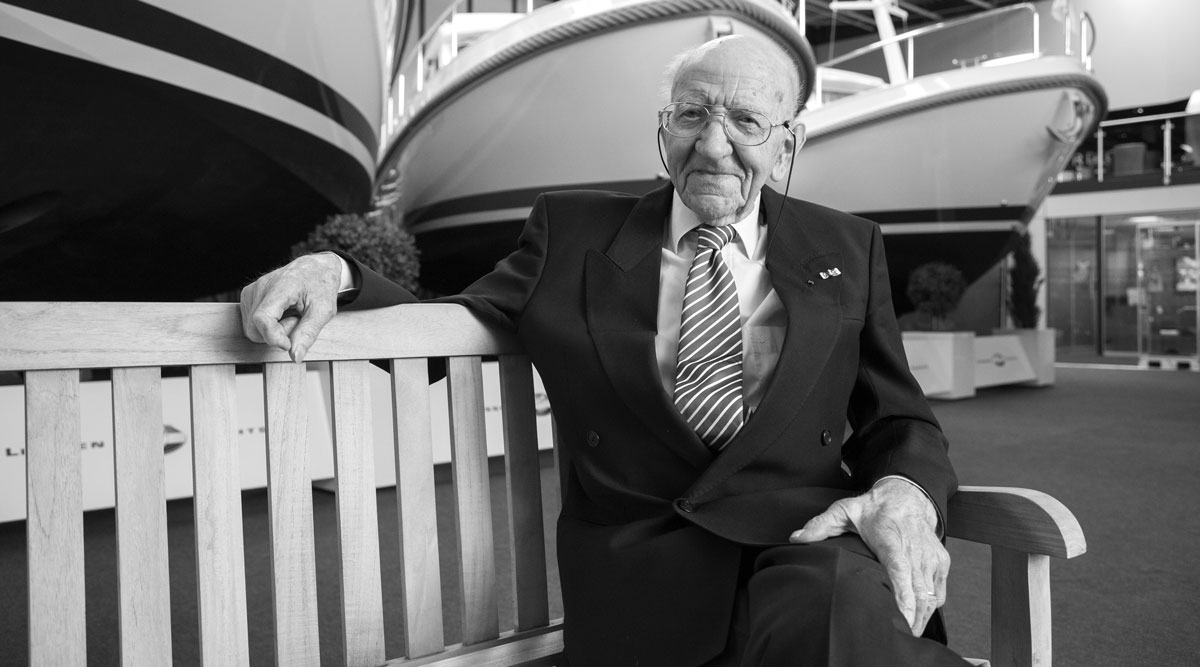 The irresistible urge to sail along magnificent waterways and to moor at exceptional locations demands the best and most suitable boat. That's where the Linssen family comes in, for three generations now, with all their knowledge and expertise, ready for their customers.
As a family business, we are guided by respect for people, the environment and by an appreciation of fine materials. And it is that passion that enables us to create an added value that goes beyond a 'good product'.
In that sense, we not only build luxury motor yachts at our premises in Maasbracht and Echt, we also make dreams come true.
The unparalleled symbiosis of the specific choice of materials, the consistent design, the admirable professionalism of our staff in combination with state-of-the-art processes and machines, make these motor yachts built in Limburg into an authentic and unique Linssen!
Enthusiastic designers
Your enthusiasm for boating has been a constant source of inspiration for our designers in creating a collection of water displacement motor yachts that enjoy international recognition. Your Linssen is a reliable travelling companion when you head for the next exciting destination. The team leaves nothing to chance. Thorough work preparation and modular construction – so that important components can be tested in detail before being finally placed inside the hull – are a guarantee of advanced technology. Our scale means that we at Linssen can take product development and system normalisation to their limits, in the interests of your safety and comfort.
Reliable sources and only the best
The hull and superstructure are constructed solely from original S235JR steel. Every Linssen is carefully preserved using high-quality coatings of leading international paint manufacturers. The precious tropical wood types are sourced from certified plantations via suppliers with whom we have been working in many cases for three generations. The propulsion and technical systems in every new Linssen are optimally configured and consist of components of A1 manufacturers and suppliers. Following a meticulous process of testing and improving, the engine room, tank and battery modules, cable harnesses, heating, warm water and filter units, prefab pipework, etc. are released for serial production and are subject to a scrupulous quality control.
Broad spectrum
The Linssen sales staff never ask 'Which boat do you want to buy?' We answer that question in consultation with you, after we have taken time to discuss your preferred boating areas, the composition of your family or crew and any guests, your wishes regarding the version and navigation equipment, you personal ideas about luxury and comfort, your personal budget and your longer-term vision regarding that budget. The Linssen models spectrum is also broad in a financial sense. We offer solutions for young families still pursuing their careers, for people of independent means, for ex-sailors or ex-motorhome owners, or for investors who want to place the boat with one of the affiliated Linssen Boating Holidays® partners. Your Linssen representative at the boatyard or in your region in Europe will be pleased to advise you. Make an appointment for a meeting free of obligation.
Craftsmanship, tradition, high tech, innovation and normalisation are not each other's opposites, but rather team players, which together guarantee a top product. In the yacht-building sector, there is only one builder that has combined these aspects in its own inimitable way. That is without doubt Linssen!
The realisation of your boating dream; an inspiring experience with Linssen
One of our faithful customers who has 'progressed' over the years from 10 to 15 metres, so that together with the Linssen family he has smashed the Champagne bottle against the hull as many as five times, said "If you buy a Linssen, a lot more comes with the deal." In that one statement, he encapsulated everything that we stand for. 'The boat' is the instrument on which you and your family and friends experience the most fantastic sailing holidays. 'The boatyard' is the institute that makes you a member of a larger community, which allows you to share your experiences with fellow owners, which guarantees you a network of expert dealers in Europe, which automatically sends you the Linssen Magazine twice a year, which warmly welcomes you to boat shows and in-house events, and which offers you the possibility to become a member of one of the international Linssen owners clubs.
Linssen: Made in Holland!
Holland is an unrivalled shipbuilding nation. When it comes to this reputation, Linssen is the undisputed specialist and market leader in the steel yacht segment of 8 to 15 metres in length. The irresistible character, the timeless appearance that defies fashion, the striking design and its proverbial value retention confirm this time and again. Whichever marina you sail into in Europe, your Linssen ensures that you are a welcome and trustworthy guest.
A real connoisseur opts for a Linssen.
Linssen Yachts History - Since 1949...
Linssen Yachts BV is a family firm with a long history. Jac. Linssen set up the company on 1 April 1949, which started out as a small-scale woodwork and ship repair business. Over the years, the business continued to develop and it became an important player on the international steel yacht building market.

Jac. Linssen - founder of Linssen Yachts in 1949

Enjoy the Linssen history timeline
---
From 2017 - present
---
From 2011 - 2016
---
From 2001 - 2010
---
From 1991 - 2000
---
From 1971 - 1990
---
From 1949 - 1970
---
Linssen Yachts is one of the oldest yacht builders in the Netherlands, making it a company with a rich tradition. The business was established in 1949 by Jac. Linssen Sr. in Maasbracht, a small but dynamic harbour town on the River Meuse in Limburg, nestling in a valley between Belgium and Germany. At the time, Maasbracht – which was then booming as an important harbour for inland shipping in Western Europe – was home to over two hundred seriously war-damaged cargo vessels awaiting repair. The massive amount of work that resulted created firm foundations for the development of regional shipyards and ship-repair businesses. Young local entrepreneurs were in a positive mood and saw opportunities everywhere. Build and invest for the future was their motto at the time!
Wood machining
One of them was Jac. Linssen. Having trained as a shipwright at a small local shipyard, the young all-round craftsman initially concentrated on wood machining. He soon made his name with completely prefabricated solid teak wheelhouses for barges and teak doors for houses. His ships' wheels, made from tropical hardwood and fitted with a boss construction developed and patented in house, were soon being used in the shipyards which were then flourishing throughout Europe.
Metalworking department
The yard's increasing business required a metalworking department so that large-scale ship repairs could also be carried out fully in house. Small steel rowing boats, work boats and small flat-bottomed boats for use on inland waterways and in the dredging industry called "vletten" were built in this metalworking department to Linssen Senior's own design.
The obvious next step was a move to luxury yacht building. The sturdy "vlet" boats were ideally suited for this purpose. After further development including a handsome superstructure and a finish which was luxurious for the time, production yacht building was underway at "Scheepswerf en Houtindustrie St. Jozef Jac. Linssen".
---
Jos Linssen took over from his father in the 1970s. He focused on the development of professional production yacht building in steel, and rechristened the company Linssen Yachts B.V. This was a name with more international appeal and better suited to its increasing export activities. In the years that followed, the brothers Harry, Jan and Peter also took their place in the family business. The Linssen brothers and their children Yvonne vand Jac are now members of a strong team in which each player has his or her own specific tasks and responsibilities.
Sturdy
In the mid-1970s, Jos Linssen launched a new generation of "vletten", the first series of Sturdy models. These were "four new St. Jozef vletten". With this special series of models, he established a trend in the 8-15 metre segment of the Dutch yacht building industry which still felt today, over 30 years later. The St. Jozef vletten laid the foundations for the legendary Linssen Classic Sturdy series. In addition to the vlet-type models, Jos Linssen developed the well-known Linssen SL Series and the Linssen SE and SX Series in the 1980s. In 1995 the Dutch Sturdy® Series was developed in association with Dick Lefeber (who died in 2000), a highly successful range of models which was built until 2005. In parallel to this development, the Grand Sturdy® Series was launched in the larger (15 m) segment. Linssen Yachts commissioned yacht designers W. de Vries Lentsch to design the Grand Sturdy. Willem de Vries Lentsch and Anne Elsinga subsequently designed the Grand Sturdy® 500 Variotop® and the Grand Sturdy® 460. Within a few years, the Grand Sturdy Series had become a recognised name across Europe.
The development of this successful series continued unabated. With almost inexhaustible creativity, Anne Elsinga and Linssen's internal development team worked continuously on the design and further development of the Grand Sturdy Series. Many new versions and models based on the characteristic design were launched over the years.
---
A number of years ago, Linssen Yachts made important strategic choices. Extensive market investigations and demographic studies revealed trends that resulted in the staff at the boatyard drawing important conclusions. A long-term plan was drawn up based on a number of significant starting points. Being a trendsetter, rather than being a follower of trends, Linssen opted for a new approach. It observed how larger and larger vessels were being built. An increasing number of boat builders were no longer focusing on smaller vessels. After all, it was alleged that "it was no longer possible in the current climate to produce smaller yachts competitively". Apart from opting to build semi-custom-built models of 18 metres and larger, the only other option seemed to be transferring production to low-wage countries. But Linssen was convinced that this option was nothing more than a stay of execution. Relocating dated technology to a low-wage country – with all the associated logistic disadvantages – only to see wages rise to West-European levels in the short term, is hardly a strategic measure. Linssen Yachts viewed developments in the yacht-building market from a totally different angle. Serial construction, process technology, scale advantage, logistics and technology were aspects that were far more important to the Maasbracht yacht builder.
The introduction of the Linssen "9" series at the 2004 Linssen Yachts Boat Show immediately caused commotion in the steel yacht-building industry. It may now be justly concluded that Linssen Yachts brought about an upheaval in its product sector. Linssen has a market share of an impressive percentage!
Based on a long-term strategy of continuity, product and process development, optimal product-market combinations, marketing and distribution are terms that have become embedded at all levels of the organisation. Important parts of and investments relating to the long-term plan have now been achieved or are nearing completion. For instance, Linssen Yachts B.V. is investing in high-quality machinery and CNC production technology.

Mainly because of the Classic, Dutch and Grand Sturdy Series, Linssen became known as a yacht builder that builds sophisticated, comfortable and reliable yachts with a completely unique and recognisable style. No superfluous gimmicks, no kitsch, no frills, just honest boat-building offering functional technical solutions, based on almost sixty years of knowledge, experience and craftsmanship.
It is no coincidence that used Linssen yachts fetch very good prices when they are resold. This remarkable fact has contributed to the reputation that Linssen yachts have acquired in the industry. A reputation for being reliable motor yachts with relatively low maintenance costs and a remarkably high resale value results on balance in the lowest "cost of ownership".
It goes without saying that the basic design and the overall quality of the product play an important part in building a company's reputation. The yachts' ability to retain their value is the logical consequence of this philosophy.
---
Design, smooth handling, comfort, durable, timeless, maintenance, universal, finish, reliable, value, service, image, and so on. These are fine words. Words which, despite each having a specific meaning, can only ever describe one facet of a complex gem. However, it is the facets together that provide the gem's unique brilliance, incomparable beauty and special value.
The material or the emotional value? They also go hand in hand, just as in the purchase of a motor yacht. After all, this is an investment whichever way you look at it, an investment with an intangible dividend and an excellent residual value...