70 Jahre Familie, Innovation und Tradition… Linssen Yachts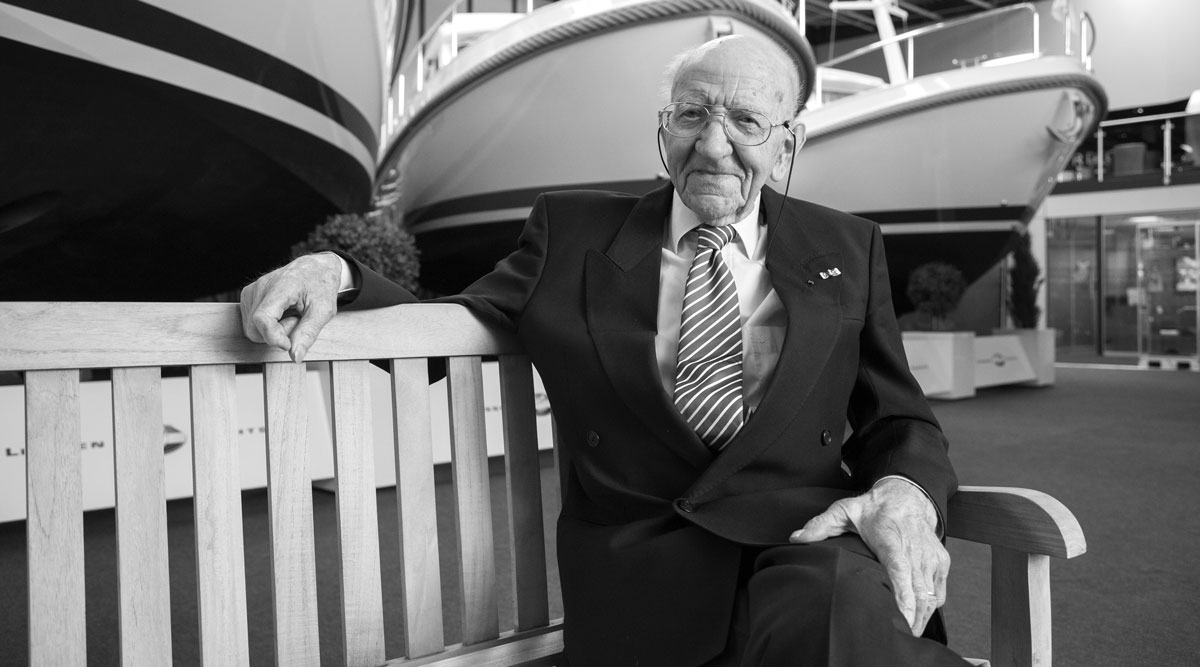 Jac. Linssen sr.
* 24 January 1922 – † 19 March 2020
---
Wer den unwiderstehlichen Drang verspürt, traumhafte Wasserstraßen zu befahren und ausgefallene Anlegeplätze anzusteuern, und dafür das am besten geeignete Schiff sucht, ist schon seit drei Generationen bei der Familie Linssen an der richtigen Adresse. Die Linssens erfüllen mit ihrem Wissen und Können gern die Wünsche ihrer Auftraggeber.
Als Familienunternehmen lassen wir uns leiten von Respekt für Mensch und Umwelt, von unserer Wertschätzung edler Materialien und von unserer Leidenschaft, mehr zu schaffen als "nur" ein gutes Produkt.
An unseren Standorten in Maasbracht und Echt bauen wir daher nicht nur luxuriöse Motoryachten, sondern wollen vor allem Träume wahrmachen.
Die unvergleichliche Symbiose von spezieller Materialwahl, konsistentem Design und der handwerklichen Meisterschaft unserer Mitarbeiter macht – im Zusammenspiel mit modernen Verfahren und Maschinen – unsere in Limburg gebauten Motoryachten zu echten Linssen!
Begeisterte Konstrukteure
Unsere begabten Konstrukteure werden durch ihre Leidenschaft für Motoryachten immer wieder zur Kreation von Wasserverdrängern inspiriert, die internationale Anerkennung ernten. Wenn Sie Kurs auf ein neues spannendes Reiseziel nehmen, ist Ihre Linssen Ihr zuverlässiger Gefährte. Unser Team überlässt nichts dem Zufall. Gründliche Arbeitsvorbereitung und die Modulbauweise, durch die wichtige Komponenten schon vor ihrem definitiven Einbau im Rumpf ausführlich getestet werden können, geben Ihnen die Sicherheit ausgereifter Technik. Dank des Umfangs unserer Fertigung konnte Linssen bei der Produktentwicklung zur Systemstandardisierung übergehen. Im Interesse Ihrer Sicherheit und Ihres Komforts.
Verbürgte Herkunft und alles vom Feinsten
Für Rumpf und Aufbauten verwenden wir ausschließlich Original-S235JR Stahl. Jede Linssen wird sorgfältig konserviert, wofür wir nur hochwertige Lacke international führender Farbenhersteller einsetzen. Die kostbaren tropischen Hölzer stammen von zertifizierten Plantagen und kommen zu uns über Lieferanten, mit denen wir oft schon in der dritten Generation zusammenarbeiten. Der Antrieb und die technischen Anlagen werden in jedem neuen Linssen-Modell optimal konfiguriert und aus Komponenten von A1-Herstellern und A1-Lieferanten zusammengestellt. Nach sorgfältigen Tests und Verbesserungen werden Maschinenraummodule, Tanks und Akkus, Kabelbäume, Heizungs-, Warmwasser- und Filteranlagen, vorgefertigte Rohrleitungen usw. in die Serienproduktion überführt und eingehenden Qualitätskontrollen unterzogen.
Breites Spektrum
Nie wird Sie jemand vom Linssen-Vertrieb fragen: "Welches Boot möchten Sie kaufen?" Denn diese Frage beantworten wir gemeinsam mit Ihnen, und zwar erst, nachdem wir mit Ihnen in aller Ruhe über Ihre anvisierten Reviere gesprochen haben, über die Zusammensetzung Ihrer Familie oder Crew und mögliche Gäste, über Ihre Wünsche in Bezug auf Ausstattung und Navigationsausrüstung, über Ihre persönlichen Ansprüche an Luxus und Komfort, über Ihr Budget und Ihre diesbezüglichen langfristigen Vorstellungen. Das Linssen-Modellspektrum bietet auch in finanzieller Hinsicht viele Möglichkeiten. Wir bieten Lösungen für junge Familien, deren Karrieren noch voll in Bewegung sind, ebenso für abgesicherte Pensionäre, ehemalige Segler und Wohnmobilfahrer oder für einen Investor, der sein Schiff bei einem der Linssen Boating Holidays®-Partner unterbringen möchte. Ihr Linssen-Vertreter auf der Werft oder in Ihrer Heimatregion wird Sie gern beraten. Vereinbaren Sie mit ihm ruhig einmal ein unverbindliches Gespräch.
Fachliches Können, Tradition, Hightech, Innovation und Standardisierung sind keine Gegenpole, sondern alles Aspekte, die zusammen ein Spitzenprodukt garantieren. Im Yachtbau gibt es nur einen Hersteller, der diese Eigenschaften in einzigartiger Weise vereint. Und das ist ganz eindeutig: Linssen!
Die Verwirklichung Ihres Traums vom Wassersport wird bei Linssen zum inspirierendes Erlebnis
Einer unserer treuen Kunden, der sich im Lauf der Jahre von der 10- in die 15-Meter-Kategorie "hochgearbeitet" hat, wodurch er mit der Familie Linssen im Ganzen fünfmal eine Champagnerflasche am Bug zertrümmern durfte, sagte: "If you buy a Linssen, a lot more comes with the deal…" In diesem einen Satz erfasste er alles, wofür wir einstehen. Das Boot ist das Gerät, auf dem Sie mit Familie und Freunden den Urlaub, die schönste Zeit des Jahres, verbringen. Die Werft ist das Institut, das Sie zum Mitglied einer größeren Gemeinschaft macht, das Sie an den Erfahrungen anderer Eigner teilhaben lässt, das Ihnen ein Netzwerk qualifizierter Händler in ganz Europa bietet, das Ihnen automatisch zweimal jährlich das "Linssen Magazine" zuschickt, das Sie herzlich zu Messen und hausinternen Veranstaltungen einlädt, das Ihnen die Mitgliedschaft in einem der internationalen Linssen Owners Clubs offeriert, das…
Linssen. Made in Holland!
Die Niederlande sind eine Schiffsbaunation ohnegleichen. Zu diesem großen weltweiten Ruf trägt Linssen als unbestrittener Spezialist und Marktführer im Segment Stahlmotoryachten von 8 bis 15 Metern Länge sein Steinchen bei. Die bestechende Ausstrahlung der Schiffe, ihr zeitloses, nicht den Moden unterworfenes Erscheinungsbild, ihre markante Form und ihre sprichwörtliche Wertfestigkeit bestätigen dies immer wieder. Gleichgültig, welchen europäischen Hafen Sie anlaufen, mit Ihrer Linssen sind Sie ein willkommener und geschätzter Gast.
Der echte Kenner entscheidet sich für Linssen.